Women @ Mazzetti Spotlight: Monica Anderson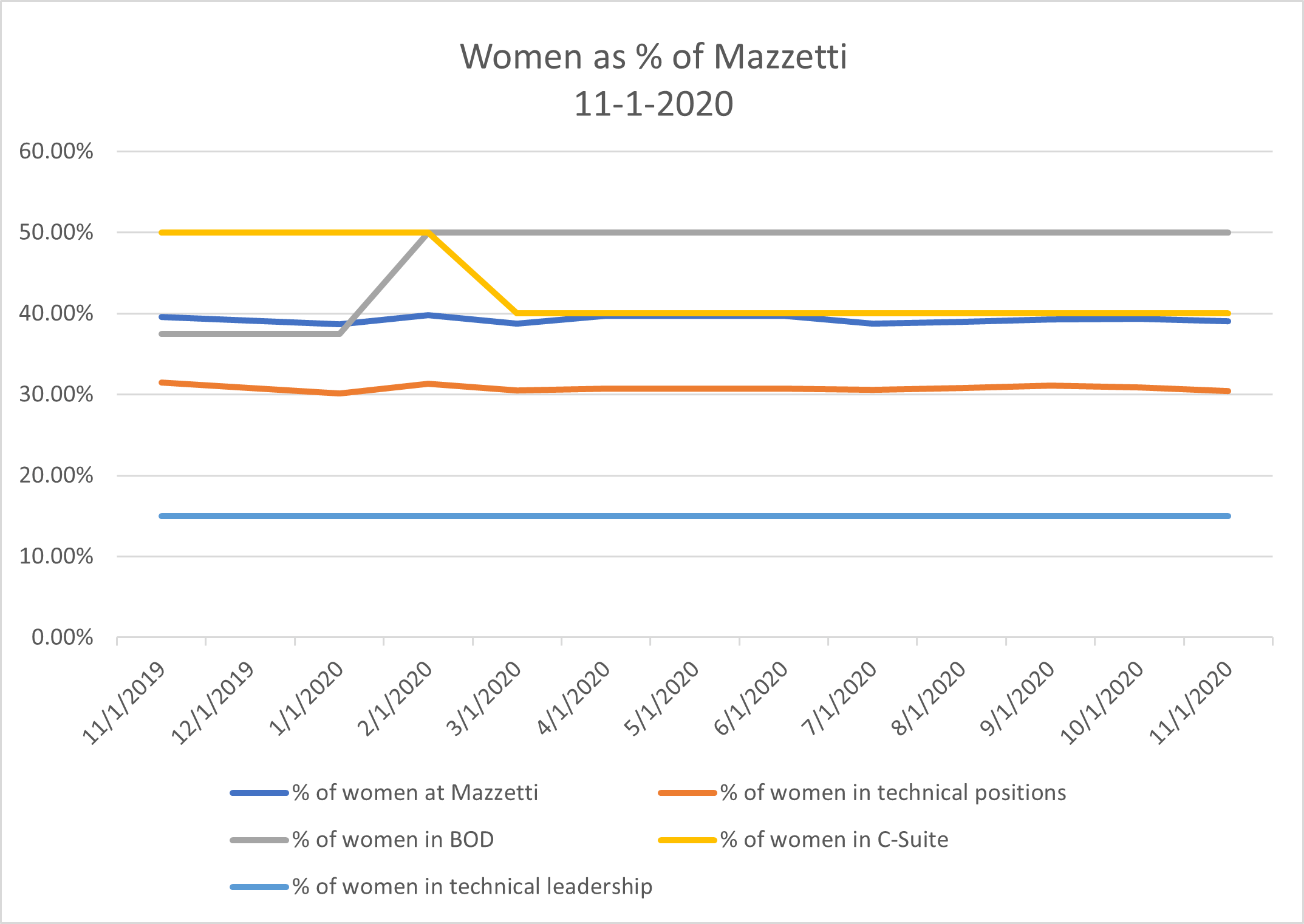 As you can see above, no significant changes in our '% of women' numbers for the month of November. However, this month we had renewed inspiration and drive after attending the virtual Society of Women Engineers Conference (WE20)—a myriad of both informative and inspirational sessions, as well as virtual networking. My colleagues and I were particularly interested in "The Power of Emotional Intelligence (EQ)" session.  We learned the 5 key fundamentals to EQ: self-awareness, self-regulation, motivation, empathy, and social skills. Given our country's current divisive climate, EQ can't be more important, both in our professional and personal lives. Working in a highly collaborative industry, we see a higher priority on EQ, and realize, it's a conscious, deliberate action that takes continuous effort. No easy task, but worth the extra effort. Curious your experiences of EQ in the workplace?
W@M November Spotlight: Monica Anderson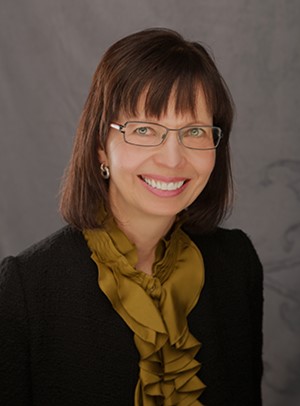 Monica Anderson is a Civil Engineer, Principal, and Co-Team Leader for our Oregon offices. She joined Mazzetti through a merger with BHE Group in 2019.
Monica started her college studies in architecture. However, with some "real-world" experience, she became intrigued by civil and structural engineering. After finishing school, her new career path started as a structural designer for a roof and floor truss manufacturing firm in Portland, OR. She later moved to Eugene, OR where she launched her Civil design career.
Years later, she joined BHE Group, built a Civil group, became a principal, and invested her own money in the company, demonstrated her trust and commitment to the firm. She eventually rose to become the President of BHE Group.
Like any leader, Monica faced real challenges, including downsizing during a recession. Naturally, this was a difficult time, but she appreciates the experience (now), learning how to best navigate adversity.
"Engineers are problem solvers – both personally and professionally," Monica remarked, "[we] are good at identifying the path to solving things." She leverages this affinity and aptitude for solving problems, in leading people and projects.
How did BHE Group join Mazzetti?
Mazzetti and BHE Group had the opportunity to collaborate on a project. During this time, Monica met our CEO, Walt, and immediately connected with his spirit and drive. Eventually, this relationship will lead to a merger of the two firms, for a better future together. Monica, today, still emphasizes her appreciation for the warm welcome into the Mazzetti family. Today she co-leads Mazzetti Portland Eugene.
Monica reflects on various projects in her career—she fondly recalls on those with the most collaborative, focused, and supportive teams. Her track record validates her ability to leverage diverse perspectives to identify the most forward-thinking solutions.
In our interview with Monica, she was very clear about acknowledging her personal support network, highlighting her husband– her greatest champion and supporter. Her husband was an architect, eventually assuming ownership, which inspired Moncia to aspire similarly in her leardership role. Monica believes having family and friends who see you in a different light (than you see yourself) is a great source of encouragement, particularly when you are underrepresented.
Advice to young women in the industry…
Her advice to young women and engineers in the industry is to be willing to step up and do the work—keep a mindset of always learning and exposing yourself to new things, take advantage of education and training on leadership and business acumen, and don't be afraid to ask for help in making new connections. Monica also recommended acknowledging your own strengths and weaknesses as a leader – while you might excel in some areas, you may not be right for other things, and that is okay. It is important for a leader to know the strengths of their team members and how to leverage to strengthen the team as a whole.
Monica's positivity and valuable expertise in business relations and firm leadership has been a huge asset to us at Mazzetti, and we are so excited to see how she participates in shaping our future!
---
---
---
---
---
---
---
---
---
---
---
---
---
---
---
Interested in what you see? Subscribe to receive monthly news and information
more tailored to what you need.