Mazzetti is first and foremost a Benefit Corporation. A Benefit Corporation is driven to create general public benefit—societal and environmental. Our mission is to make the world a better place by creating better environments. It's embedded in our culture.
How one engineering firm is changing the world — and the workplace
Employee Wellness
Mazzetti's commitment to making the world a better place by creating better environments includes the "betterment" of our employees.
Mazzetti's Four Lenses of Wellness.
Read more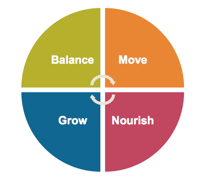 MOVE – exercise, fitness, physical activities
NOURISH– nutrition, calorie counting, weight management
GROW – personal & professional development, financial health, chronic disease management, smoking cessation
We believe that small, healthy changes over time will pay huge dividends for both individuals and the company as a whole. We'll continue to strive to create a culture of wellness with future employee programs and benefits.
BALANCE – mindfulness, stress management, meditation, mind & spirit renewal, sleep management, volunteering/giving back
Read less
Community & Environment
Commitment to Sustainability: Mazzetti is committed to promoting environmentally conscious solutions to our clients and in our workplace.  As part of Mazzetti's commitment to sustainability, we have developed a set of guidelines for internal sustainability for our offices.
Read more
These guidelines include criteria for purchase of consumables and equipment, operational improvements for energy efficiency, water reductions, encouraging staff transportation alternatives, use of hybrid company cars, and waste minimization. All offices are committed to participating and continuously improving our sustainability efforts.
Green Office & Sustainable Business Awards:
Practice Greenhealth Champions for Change Award 2007 – 2016
Certified San Francisco Green Business  – 2011 – 2018
Colorado Environmental Leadership Award, Silver Tier (2009); Gold Tier (2011, 2014)
Portland Office – Sustainability at Work Gold Certified – 2009 – 2018
Mazzetti regularly seeks opportunities to positively engage in our local (and even international) communities.  We formed a relationship with GRID Alternatives, a nonprofit organization bringing the benefits of solar technology to communities that would not otherwise have access, providing needed savings for families, preparing workers for jobs in the fast-growing solar industry, and helping clean our environment. In 2015, Mazzetti employees volunteered to install four solar systems for low-income families who most need the savings. In total, twenty-two Mazzetti employees and family members volunteered with GRID. These installs took place over five days and in three GRID regions: Bay Area, Colorado, and Los Angeles. The solar systems our teams installed totaled 9.5 kW AC. In 2016, 20 Mazzetti employees installed 7.9kW over three builds–one in Denver and two in the San Francisco Bay Area. Read more about the recent build in a San Francisco suburb here. 
Energy to Care: Mazzetti collaborated with ASHE and the AHA to create the Sustainability Roadmap for Hospitals, providing access to reliable, unbiased resources that can help organizations integrate sustainable practices into the health care environment. Developed by leaders in healthcare facility operations and maintenance, design and construction, supply chain, and environmental services, the Roadmap offers free technical tools and resources specifically designed to reduce energy, water, waste, and maximize supply chain efficiency.
Read less
Global Health
Mazzetti is actively leading and collaborating various global projects pertaining to enhancing healthcare facilities and the overall health of communities. We bring sustainable systems to many hospitals in the developing world that desperately need it—by utilizing our new creative financing models and collaborating with our esteemed like-minded partners. 
Read more
Tons of HOPE: Volunteer opportunities include volunteer vacations for solar panel deployment in partnership with Project HOPE. We train our volunteers through the GRID Alternatives system, so they are able to deploy the same techniques in our Tons of HOPE projects. Additionally we've worked with the World Health Organization (WHO) and the Ministry of Health in various African republics, including Liberia and Rwanda, to develop nationwide regulations and policies for healthcare and sustainability. We've designed on-site wastewater treatment, rainwater catchment, solar thermal hot water, and ventilation systems in Haiti, Rwanda, and Uganda.
Sextant Foundation: Mazzetti actively participates and supports the Sextant Foundation to provide sustainable healthcare through clean energy and water solutions. Financing Model: inexpensive components, volunteer labor, local labor for maintenance, buy down cost of system, if possible, with donations in the form of sale of prospective carbon offsets from the project, or historic offsets from previous projects.  Fund the balance of the project from investors who will receive a return through power purchase agreements (PPA). By leveraging creative financing options, Project HOPE and Mazzetti worked together to empower communities and deliver lasting positive change through sound financial investment.
Read less
UN Global Compact
Mazzetti supports the Ten Principles of the United Nations Global Compact in the areas of Human Rights, Labor, Environment, and Anti-Corruption. 
Read more
Human Rights: Upheld by our support for the Universal Declaration of Human Rights as stated in our written company employment manual. Beyond our employees and our operations, our commitment to protecting human rights is also rooted in the expectations we have of our suppliers and clients.
Labor: Upheld by our promoting equality and fair labor practices in the workplace, this includes our ongoing pursuit to maintain a diversified workforce—we provided scholarships to Women Engineers in the Industry at California Polytechnic University, San Luis Obispo; we provide equal health benefits for domestic partnerships across all offices.
Environment: Mazzetti is changing the status quo of corporate America's ambivalence to environmental protection and leading the way to making an example of how to create, implement, and deliver sustainable and environmentally sound practices both in-house and to the solutions we provide to our clients.
Climate-Friendly Commuting Perks
Mazzetti also aims to reduce the impacts of daily employee commuting through the following programs, including:
1. Allowing employees to purchase public transit passes pre-tax
2. Providing employees who bike to work with a subsidy for bicycle maintenance and gear
3. Completing an annual survey of employee transit activities and practices
4. Implementing a Carbon Footprint Tracker System measuring an employee's carbon footprint annually during air travel.
Policies:
Corporate Sustainability Action Plan & Environmental Purchasing Plan
Encouragement of LEED Accreditation & Education
Public Commitments to:
World Health Organization (WHO) Health in the Green Economy Initiative
Healthcare Without Harm
Haiti and the Phillipines in their healthcare facility reconstruction
Architecture 2030 (AIA 2030 Challenge)
Green Business Certification
Anti-Corruption
Mazzetti is a proud supporter of the U.S. Foreign Corrupt Practices Act, the Organization of Economic Cooperation and Development Convention on Combating Bribery of Public Officials in International Business Trans¬actions, the UN Convention against Corruption, and similar laws in many countries that prohibit bribery and corruption. Our employee manual clearly communicates our commitment to abide all anti-bribery laws and anti-corruption laws anywhere where the company does business.
Read less