Connecting engineering and innovation where it's critically needed.
The Story
On January 12, 2010, an earthquake of 7.0 magnitude devastated Haiti, killing 1/4 million people, injuring over 300,000 and leaving 1.6 million homeless. We worked with Project HOPE and the CRUDEM Foundation to safely install portable prosthetics labs throughout Haiti, as many injured lost limbs. Our strong relationship with Haiti continued, transcending the earthquake and cholera epidemic that followed. However, prior to 2014, Mazzetti did not have a fundraising arm to support this type of work. Sextant Foundation launched in 2013, as a US-based 501(c)3 organization.
The Purpose
The Sextant Foundation was founded to develop and implement sustainable development projects that connect engineering and innovation where it's critically needed – at healthcare settings in the developing world. The foundation aims to improve the environmental, financial and human conditions in low-resourced health centers , and to bolster health system capacity, globally.
Its mission is also research-driven, particularly in the application of reverse innovation. Sextant will explore and disseminate international best practices for facility design in areas of scarce resources.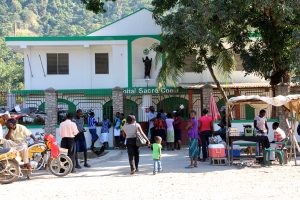 -Milot, Haiti
In the aftermath of the 2012 earthquake that devastated Port au Prince and other southern regions of Haiti, the rest of the country and the world was charged with providing much needed aid.
Among the earliest responders was Hôpital Sacré Coeur (HSC) in the northern Haiti town of Milot. The 122-bed hospital was stretched beyond capacity to accommodate the thousands of victims flown in from Port au Prince. The increased use of the hospital was an enormous strain on the already overtaxed and out- of-date electrical system.
This Sextant Foundation project updated the system and provided reliable and more cost efficient energy to the hospital. (Photo: Ron Bourgault, Mazzetti Chief Electrical Engineer with a team of local volunteers)