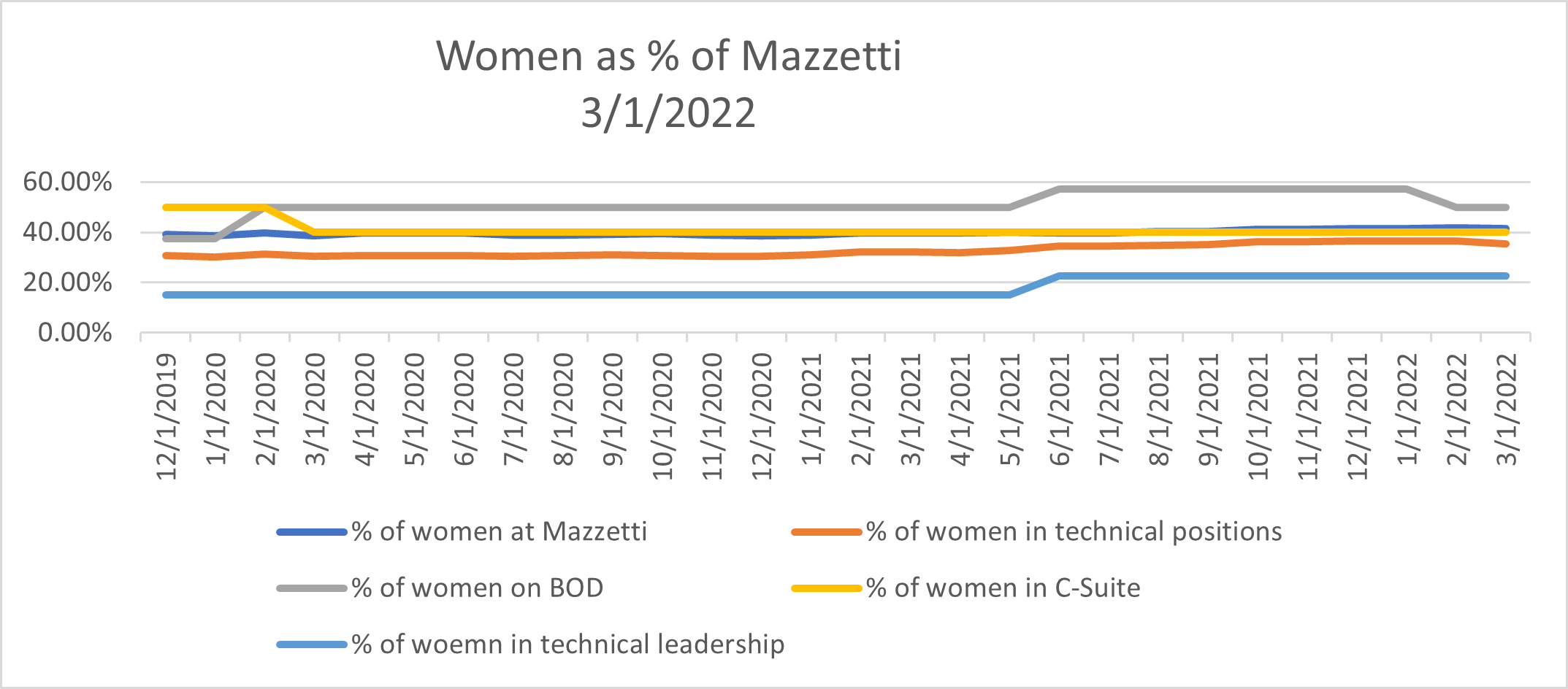 Happy Women's History Month! This March, our Women@Mazzetti numbers are holding steady after a few changes at the beginning of the year. Stay tuned next month for an exciting announcement from Mazzetti that will have a significant impact on our monthly numbers…
March 8th was International Women's Day and to honor the holiday, the W@M committee hosted a company wide discussion where we touched on the following topics:
The history of International Women's Day and the movement for gender equality
The importance of gender equality (and how it's estimated that we're still 135.6 years away from it according to the World Economic Forum)
The current gender pay gap
The current numbers of women in STEM and engineering jobs
Who are the inspirational women in our lives?
What Mazzetti and the A/E/C industry are doing right to promote equality and inclusivity (and how we can improve)
How the pandemic has affected the struggle for gender parity
The theme for this year's IWD was #BreakTheBias, so we closed out the event with a group photo of everyone doing the #BreakTheBias pose!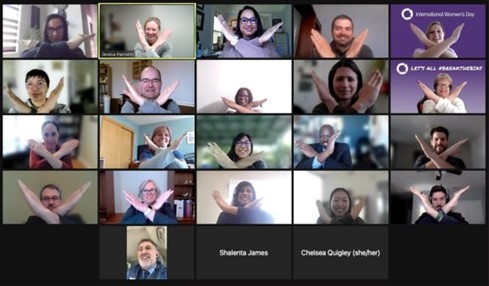 Thanks to all those who attended and participated in the discussion, we look forward to hosting more of these events in the future!
Women@Mazzetti Spotlight: Holly Taylor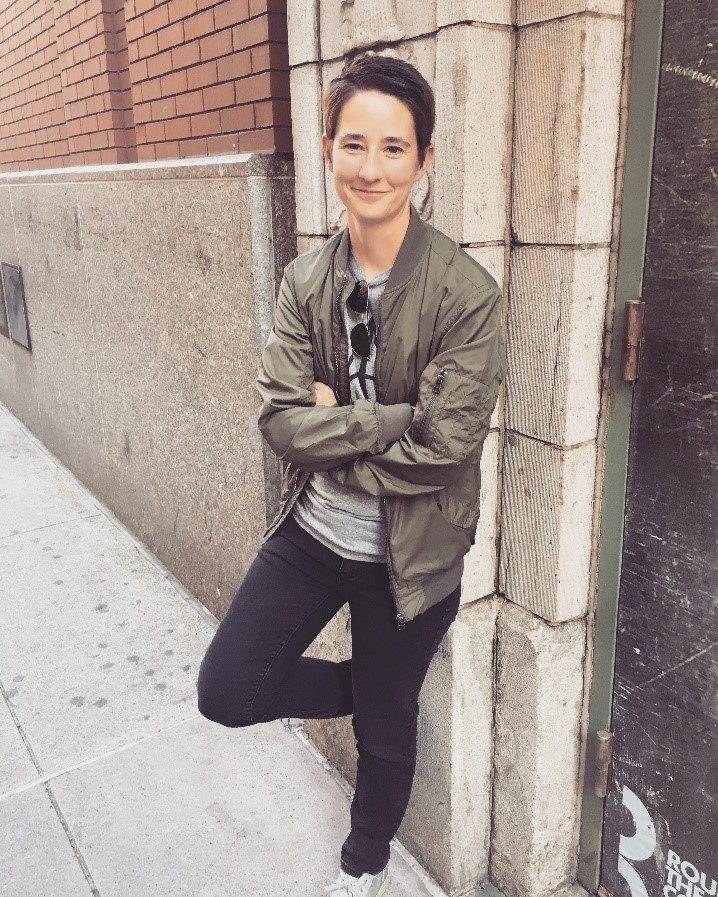 Holly Taylor works (remotely) in Mazzetti's Denver office and is the Electrical Discipline Lead for Mazzetti. If you had asked her five years ago what she'd be doing in her career, she never would have thought she'd be leading a discipline for the whole company, but three years later, she can't imagine doing anything else. Holly's leadership has made the electrical discipline a shining example of how to structure and maintain efficient workflows and resources for everyone to use!
Holly studied architectural engineering at CU Boulder, concentrating in lighting and electrical engineering. She started her career at a firm that was acquired a few years into her time there, and her office was closed. It was at that point that Holly and one of her coworkers, Ryan Stromquist, both came to work for Mazzetti.
While Holly started with more lighting design at the beginning of her career, she slowly transitioned into doing more electrical work and became more interested in power. She likes the cut and dry aspect of electrical design and the fact that it's not as subjective as lighting can be. Early on in her career, Holly struggled at times with the very solitary engineering work she was doing. After becoming the electrical discipline lead in 2019, she now enjoys lot more collaborative work, knowledge sharing, and training. Holly tries to get to know all the staff both in the electrical department and across Mazzetti. When asked about her mentors, Holly said:
"There are so many strong female electrical engineers and lighting designers at Mazzetti, it's truly amazing the talent that I get to be a part of and learn from. Disha, Keisha, Anjali, Angel, and Lauren are just some of the many great women at Mazzetti that I have personally been encouraged by and have learned from."
As the electrical discipline lead for Mazzetti, it's Holly's job to ensure our company standards for electrical drawings, specifications, and calculations. She works to automate and streamline workflows that the electrical department frequently uses, to keep the Revit library up to date with content, and to coordinate with the other discipline leads to make sure their standards are in alignment. Holly views her position as a way to help bridge the gap between young entry-level engineers and more experienced senior engineers by creating accessible pathways for knowledge sharing and helping to improve outdated processes.
One of the challenges of working at a well-established firm is that we sometimes get stuck doing something one way because that's the way the firm has always done it. A recent example of this is in our California offices, where for many years we included wiring on the electrical drawings because we thought it was a requirement of HCAI (formerly OSHPD). Holly decided to look at the latest California codes to see where this requirement was coming from and found that it wasn't a requirement anymore. This discovery not only saved the CA offices time and effort since they no longer have to show wiring on their drawings, but it also helped to standardize so that all the offices do things the same way. This year, the electrical discipline is working on quality control (QC) reviews to see how different offices do things and where they can improve. Holly and Eric Sweet, a senior electrical engineer in our Seattle office, are working to QC a variety of projects from all the offices to make sure that everyone is meeting the discipline standard.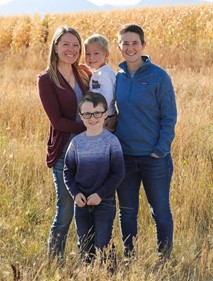 While Holly still works on some projects on top of doing development and management for the electrical discipline, she keeps work-life balance at the top of mind because,  "at the end of the day the work we do is important and has significance, but the people we do the work for are our everything," – for Holly, that includes her wife, their two sons, and their dogs. She also cultivates her passion for teamwork and collaboration outside the office by playing soccer.
Diversity in the AEC industry and at Mazzetti is one thing that Holly thinks we needs continued awareness:
"When I look at Mazzetti's website I am truly proud of the minority representation I see. We are such an amazing place to work because of that diversity and it's not just diversity for diversity's sake. We have such talented people here at Mazzetti, it's just incredible!"
Holly is without a doubt, one of those incredible people and Mazzetti is lucky to have her paving the way for both the electrical discipline and the overarching organization of the company!