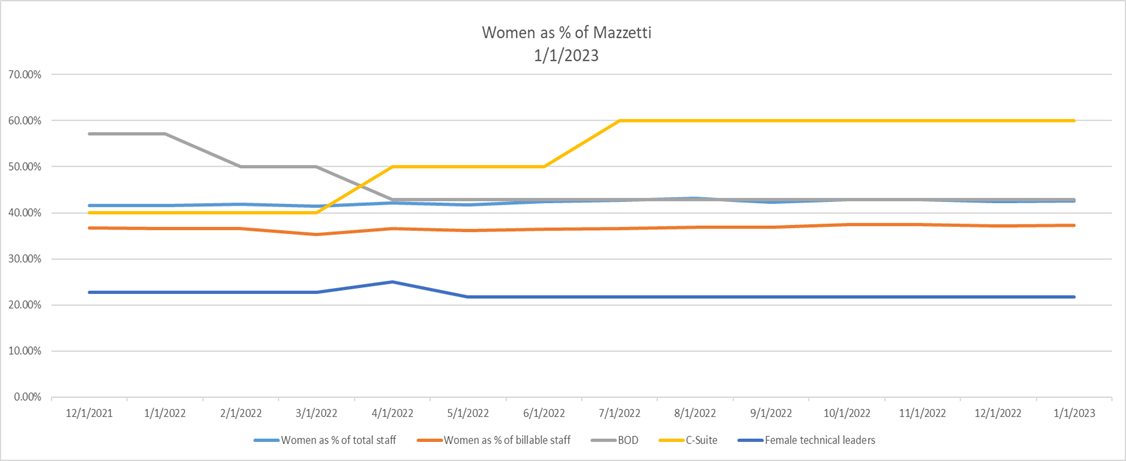 The Women@Mazzetti committee sat down in December to reflect on 2022 and where we want to go in 2023. We started by updating our committee mission statement to better align with our current efforts. Here's our new and improved mission statement:
Women@Mazzetti is an employee resource group leading the cultivation of an environment to best support and empower women. We strive to 1) continue evolving Mazzetti to be the most women friendly design engineering and consulting firm and 2) help advance our industry overall.
Next, we adopted a strategy framework  to structure goals A strategy framework is an aspirational blueprint for how an organization should work and how all its stakeholders are connected. The framework that we chose to use is a common many corporate employee resource groups (ERGs) called the 4 C's: career, commerce, community, and culture. Using this blueprint, we brainstormed our goals for the coming year and categorized them under these four topics. This resulted in the following list: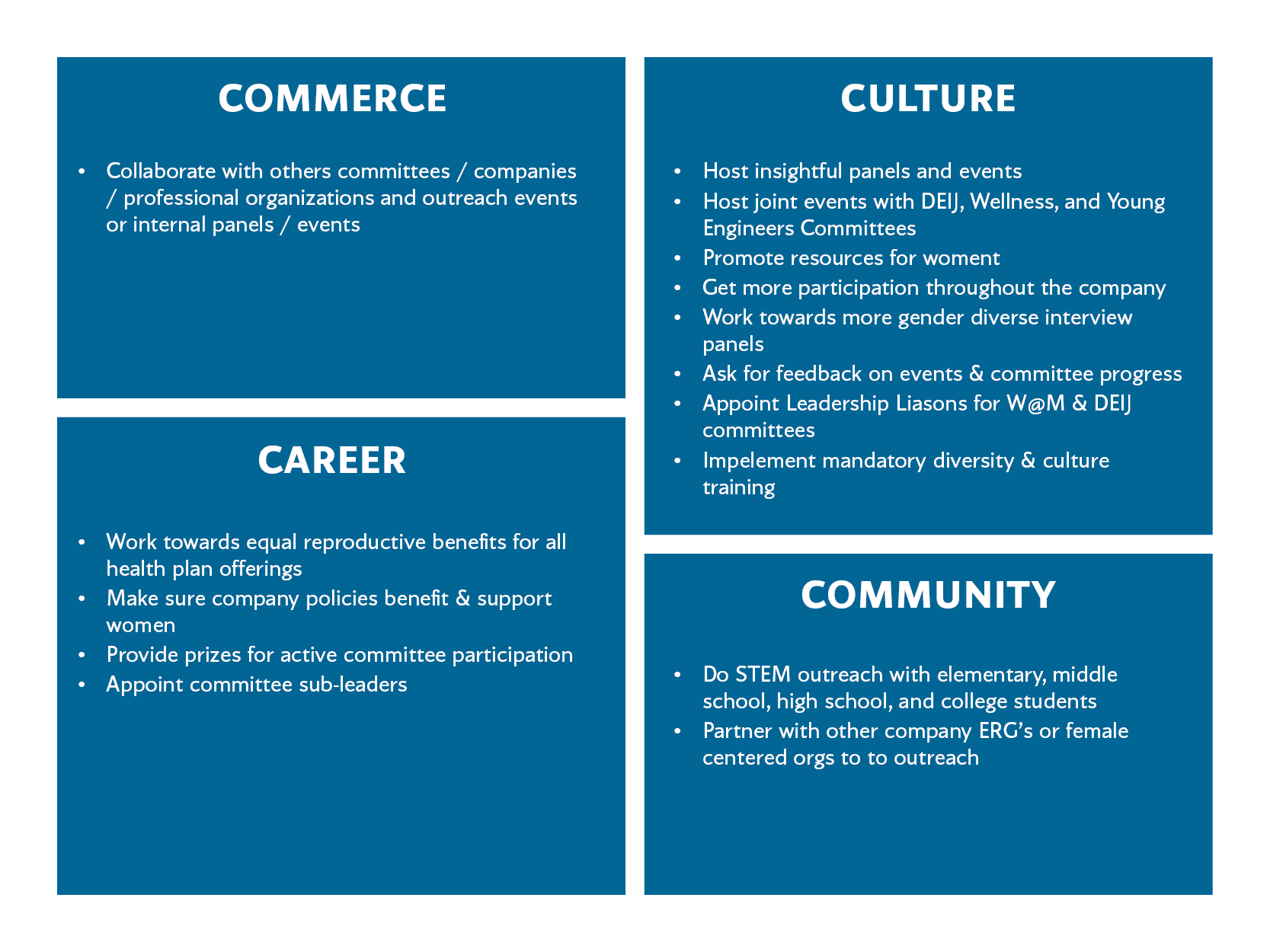 Lastly, we created action items for high priority goals to address in 2023. First is planning our annual companywide event for International Women's Day on March 8th!
As we enter 2023, we sit at just below 43% women across all Mazzetti including 37% female billable staff and 22% female technical leadership. Our C-Suite is 60% female, and our Board of Directors is around 43% female. We look forward to increasing some of these numbers this year and continuously evolving Mazzetti to be the most women-friendly engineering and consulting firm! We're excited to feature LaDonna Ford as our first W@M spotlight of 2023, enjoy!
Women@Mazzetti January Spotlight: LaDonna Ford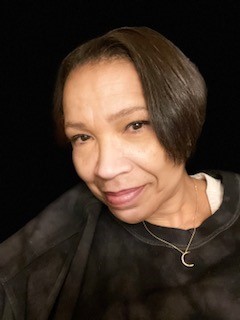 LaDonna is a project administrator in the San Francisco office. Throughout her 15 year tenure at Mazzetti, she's held several different positions and built many important relationships. LaDonna has mastered the art of being calm and collected, focusing on enjoying her work and being open to new challenges. Mazzetti is lucky to have LaDonna and we appreciate her ability keep all our engineers and project managers organized!
LaDonna attended San Francisco State University and initially pursued accounting. She quickly realized that was not the path for her and aspired to going into writing or journalism. After graduating, she worked in retail and then transferred to merchandising where she worked for nearly a decade. She transitioned to working for a construction company which eventually led her to Mazzetti. Over the course of 15 years, LaDonna left Mazzetti twice to pursue other opportunities, but her coworkers made her want to return because of how much she learned and the  close relationships that formed over the years working together. When she returned, she felt that she knew herself and her worth better than she did before. She was able to better express what she was interested in working on, set better boundaries for work/life balance, and learned not to internalize things so much.
"I used to want to to conquer the world… now I conserve my energy, choose my battles, and really try to do things that are of interest to me."
LaDonna likes the variety afforded by her position. While there are recurring tasks like monthly billing, there are always new challenges. She isn't afraid to vocalize when she doesn't know something and is able she is able to learn quickly and get the job done. LaDonna has earned respect due to her long tenure at Mazzetti. Coworkers feel comfortable coming to her with questions or when they need a second opinion. Although she doesn't miss the commute or the stress of running late for work, she does miss the camaraderie and energy of being in the office around other people all day.
Mentorship has been important to LaDonna throughout her career, and for her it always starts with friendship first. She looks for honesty and people that that can teach her something new. At work, LaDonna has found mentors through several of her managers and project managers including Mazzetti's former CFO, Darryl Wandry, former team leader John Karmiris, and current engineering practice leader, Jon Inman. Outside of work, LaDonna has a group of longtime friends (or her "kitchen table" as Michelle Obama would call it) that are her mentors and support system. She can count on them to hear her out, lift her up, and let her land softly, and she does the same for them when needed. Above all, LaDonna believes in being able to have conversations about tough topics.
Outside of work, LaDonna enjoys traveling, reading, working out, and shopping. She has also been enjoying cooking more in recent times, playing with simple recipes and slowly building her skills. She's taken pleasure in journaling and writing for most of her life and has been thinking about the idea of eventually writing a book, maybe as a hobby once she reaches retirement.