Women @ Mazzetti Spotlight: Bethany Beers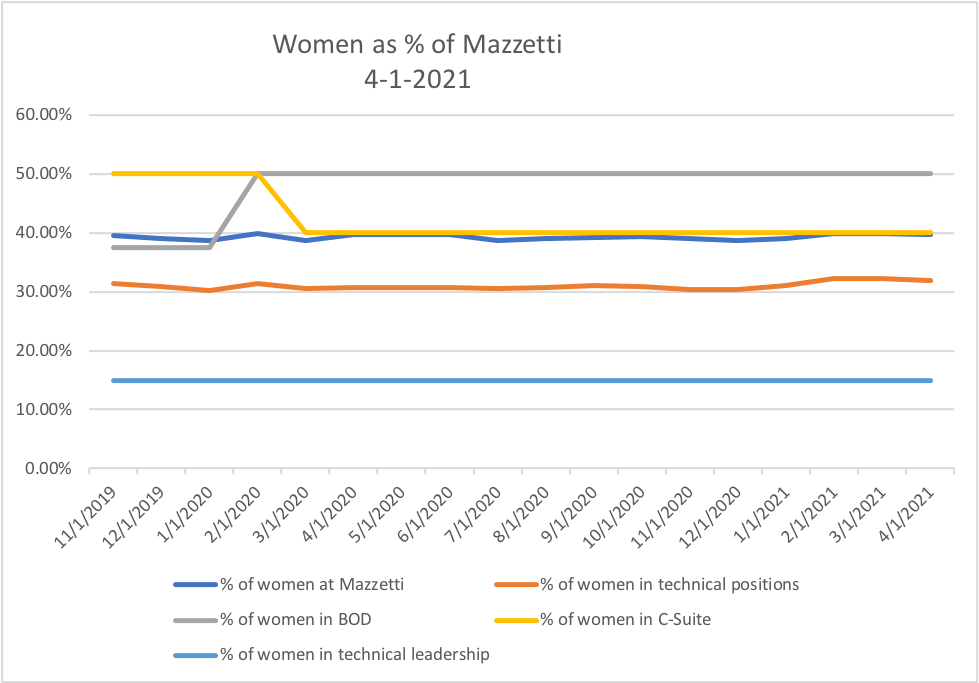 Per the graph above, Women@Mazzetti numbers have been holding steady this past month.
We're thrilled to share a few Women@Mazzetti activities and accomplishments from March. We're putting our money where our mouth is — donated to Society of Women Engineers (SWE) the Golden Gate chapter, focused on professional development. The donation will help fund a scholarship to be awarded to a high school or community college student of female gender or another underrepresented minority gender, who is intending to attend a four-year university with a declared major in engineering. We look forward to supporting more organizations across the country, empowering women in the STEM field.
Special thanks to the W@M Committee member Chris Hanzel, Mechanical Engineer in San Francisco, who interviewed and produced the March spotlight.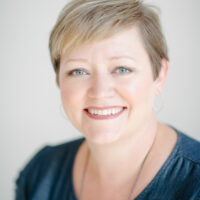 Women@Mazzetti Spotlight: Bethany Beers
Bethany Beers is a Senior Associate and Energy and Commissioning Consultant in Colorado.  She was working from home in Ft. Collins before it was cool!  How she landed here was the result of a winding road, introducing her to great mentors and colleagues along the way. It's the road that is leading her to success at Mazzetti, attracting both clients and co-workers for repeat work.
Bethany earned her Bachelor of Science in Architectural Engineering & HVAC Design at the University of Wyoming.  It was a perfect way for her to blend her interests in both art and engineering.  After starting down the path of structural engineering, she pivoted to mechanical engineering to more directly impact  human comfort. Upon graduation, she joined a firm that wisely exposed her to a variety of projects and opportunities – and she did not disappoint. Bethany would quickly assume a leadership position over the sustainability/LEED consulting arm, and over time, extensively grow the practice. Among other accomplishments, they commissioned over 1,200 GAP stores to ensure they were built and operated at optimal efficiency.
Bethany's next exciting sustainability career move brought her to New Belgium Brewing Company, a company that believes that business can be a force for good. She grew as a project manager for the building components and sustainability of their new brewery and tasting room in Asheville, NC.  During her five year tenure, she had the opportunity to work on their major expansion of the Fort Collins plant (included office space and a new beer garden). Bethany is highly complementary about New Belgium — a great company, not only for the work, but equally for the people, her colleagues.  Bethany found that same sense of community, fun, and purpose (looking-beyond-the-bottom-line) when she joined Mazzetti almost three years ago.  Just as she grew at her first company, Bethany desires to see more female leadership at Mazzetti to truly make it the most woman friendly engineering company.  As a strategic, "big picture thinker", her goal is to get more involved at the governance and corporate level to help shape the company's future.
IMPORTANT NOTE: For the inquiring minds, yes, Bethany claims to have been a "beer geek" well before the NBB job AND before her last name coincidentally became 'Beers'. Her favorite brew is somewhat of a moving target, but her old standby is Fat Tire in a can from the NBB Asheville brewery (yes, specifically from this brewery she says!).
As an engineer and a mom of two young daughters, Bethany has found success in both areas of her life by setting boundaries and expectations early with clients and coworkers. Being honest and upfront helps establish a sustainable working relationship for everyone, without having to sacrifice family time, unnecessarily. Doing what is best for her family should not be in conflict with work, accordingly to Bethany. She strongly believes her intentional preservation of family (personal) time, has yielded high performance at work, for her clients.  Bethany believes that, "there [are always] times when you have to work late or travel but make those the exception and not the norm."  She now mentors other young professionals, striving to help them avoid early career burnout.
When she was younger, Bethany was not pressured by her parents to go to college or pursue a specific career path; she was able to be curious and explore all her options. In her work and family life, with children of her own, she tries to take that same approach so others can find their own way.  Bethany's clients have appreciated this methodology and keep coming back to work with her again on new and interesting projects. Mazzetti is lucky to have her!
---
---
---
---
---
---
---
---
---
---
---
---
---
---
---
Interested in what you see? Subscribe to receive monthly news and information
more tailored to what you need.