Mothers @ Mazzetti: Can you "have it all"?
In 2017, my daughter Audrey was born. I started realizing what my life and career in Lighting Design needed to become… MORE FLEXIBLE.
If I was going to keep my career in Lighting, I needed to stay working full-time but couldn't keep up with the travel demands at my previous job. I'm also a strong believer that you should love what you do for a living when you're spending at a minimum most weeks 40+ hours doing it, not to mention the guilt of leaving your child behind in someone else's care. I experienced a moment of clarity — my next job had to be worth it. This equated to an enjoyable job, yes, but also life, if not, industry changing. I needed a role, in which, I was empowered to impact the lighting design and architectural industry while specifically focusing in Healthcare, creating healing spaces… And, I wasn't going to stop until I figured out a way to "have it all". That's the dream right?! I've never been one to settle.
When I connected with Mazzetti again in 2018, I was interviewed by three men, one specifically that would become my current boss. All three had families and were big proponents of a work/family life balance. I even interviewed via Skype in my kitchen while watching my daughter in the other room. If a company was interested in me, they'd have to be flexible, and in turn, I would promise to make it worthwhile for the company!
Once I started at Mazzetti, all that talk revealed to be the true reality. I was now part of a company with a boss who fully supported me. I was able to take off when my daughter was sick, make up time when needed, and I've never felt shunned or judged by any one of my coworkers. I traveled (still do) when needed, all my pumping kit of parts in tow, while Brennan (yes, my boss), has helped me preserve that balance, even if I had to be on the road. I've never been asked to do more than I could handle (or anything beyond my comfort level with respect to the "balance").
Sidenote: I recommend this useful resource re breastfeeding/pumping/etc.
Fast forward to 2019, after only a short amount of time working for Mazzetti, I became pregnant again with my second child. My son was an emergency C-Section birth. It's the scariest situation followed by the hardest time I've ever been through physically and emotionally recouping from it. The support I had leading up to my son's delivery and after has been more than I could have imagined. Multiple people to share and vent to or get advice from with the flexible time I needed to recover yet still work and manage a home. What's surprised me the most, is not that I was allowed flexible work conditions but that some of the people who have opened up to me the most about balance and what women go through have actually been men.
In 2018, a couple female Lighting Designers conducted a survey — Why Women Leave Lighting Design. Out of 452 women surveyed, only 37% of those were mothers who have STAYED in Design. Most left due to inflexible employers, including insufficient benefits. I'm happy to say, this isn't the case for me.
Companies like Mazzetti, who hire people, female and MALES who believe in a work/life balance and offer flexibility to working mothers will continue to thrive. Since my short tenure at Mazzetti, improvements have been implemented to our company guidelines, including accommodation/renovation in every office for lactation rooms. We have our Women @ Mazzetti group, in which, I can openly speak and gain support from; but it's larger than that. For me, I wouldn't go through any of the stresses of this work/life balance through these child-rearing years with any other company. This is my Thank You to Mazzetti and the men and women in it (you know who you are) for your support and patience through these post-partum years.
The best part? I'm currently designing the lighting for Randall Children's Hospital Family Birth Center with our Portland office. Fair to say, I'm a true asset to the client given my recent, 1st-hand experience to offer!
Below, is our monthly "Women @ Mazzetti" tracking, keeping us informed in terms of our specific female diversity in the company…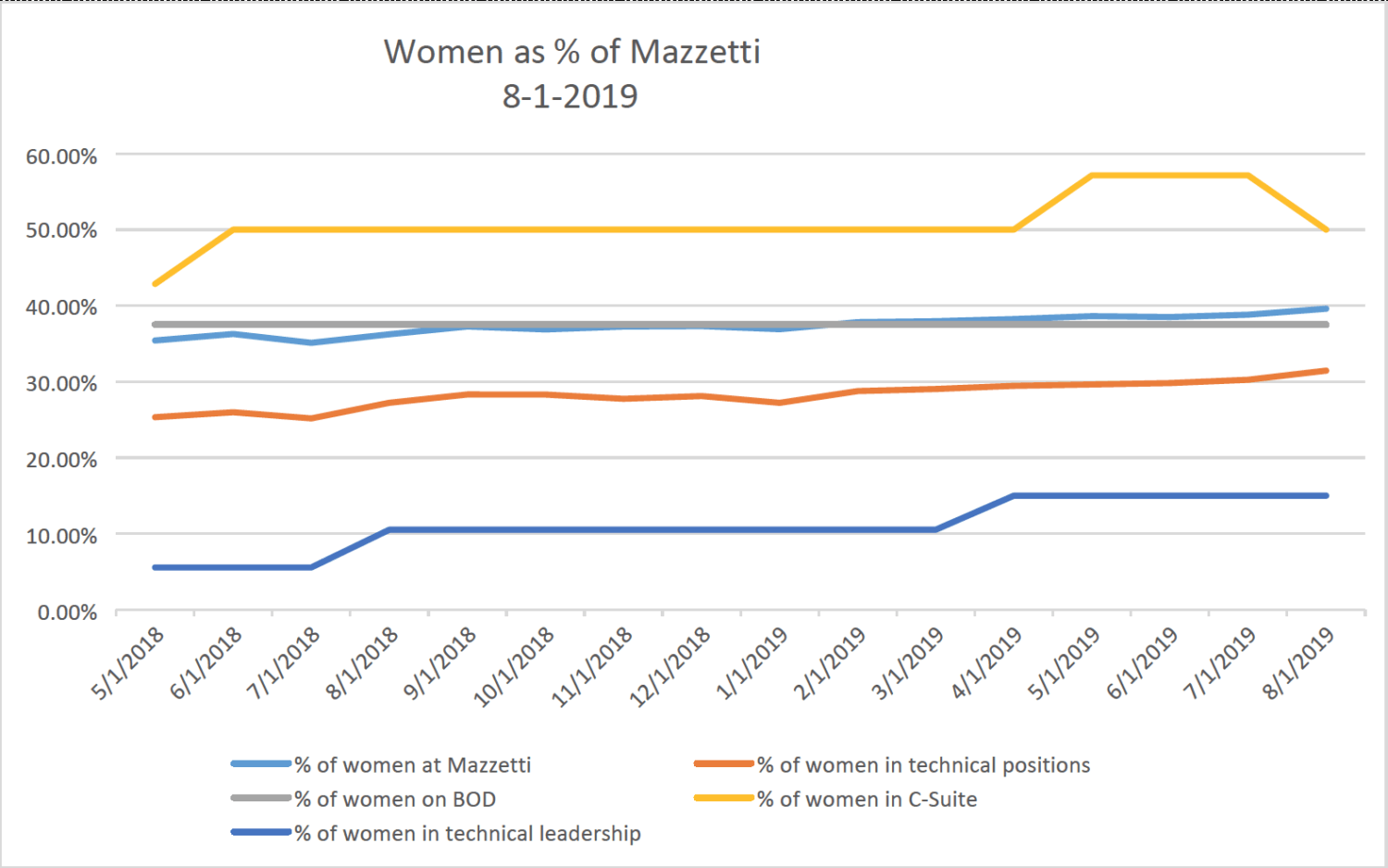 ---
---
---
---
---
---
---
---
---
---
---
---
---
---
---
Interested in what you see? Subscribe to receive monthly news and information
more tailored to what you need.