Overcoming challenges to make MEP "a work of art"
Project: UCLA Santa Clarita Film Archives & Preservation Center
Client: Packard Humanities Institute, David Packard
Architect: BAR Architects
Traditionally, Mazzetti has had minimal experience in the Arts and Entertainment industry. This particular project was an opportunity to test our knowledge and expertise, providing unique learning opportunities to make MEP systems "look good". As a primarily plumbing engineer, I don't typically gravitate toward architectural intricacies. Surprisingly, my journey on this project would prove to be both challenging and rewarding. Let's just say, looking at the picture (above) now, invokes feeling of appreciation and admiration.
Overview of the building and intended purpose.
Specs: 64.5 acre site in Santa Clarita, CA
Purpose: Maintain the highest standards of preservation and storage of one of the most significant collections of film and television moving images in the world.
Two distinct parts: The Collection Storage (primarily underground) & the Stoa, inspired by ancient Greek Stoas, housing the preservations labs, work rooms and staff offices. The interior architecture is inspired by the Florentine monastery of San Marco, designed to inspire the preservationists' work.
Project Phases.
Phase 1: Underground nitrate film storage vaults
Phase 2: Staff offices, collection storage rooms, restoration and preservation lab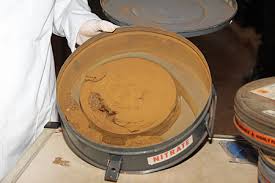 Initial Challenge: Cellulose nitrate film stock was in commercial use through the early 1950s. (image left) Unfortunately, cellulose nitrate is apt to degradation if not stored in the appropriate pressurized, low temperature conditions. This material is highly flammable and self-oxygenating so properly-designed fire protection systems are extremely important. As a result, fire protection was a primary focus for the storage rooms and film handling areas. This created the need for high-end coverings to "hide" the appearance of these systems, so as not to distract from the monastery look and feel.
Open-truss construction and the need for concealment of MEP and Fire Protection created unique challenges. For example, the building has several areas where Perchlorethylene is used for cleaning films. Due to this chemical use, these areas required exceptionally robust fire sprinkler systems with many large pipes, valves, and heads to conceal.
Other examples of "hiding" included:
Dedicated HVAC system, for each office, hidden in an interstitial floor.
Rainwater drainage systems made almost invisible, using many stainless steel leaders concealed behind stone facing.
Visible plumbing fixtures, such as corridor drinking fountains, had to have an oil-rubbed bronze finish in order to minimize visual distraction from the decor.
Additionally, we had specific LEED project goals and heretofore unheard of local governing authority's requirement that all plumbing fixtures be listed on the CA Appliance Efficiency Database – a requirement that seriously inhibited our ability to find suitable fixtures meeting our aesthetic and LEED requirements.
In reflection.
Like I said, this was fairly new territory for us. Our team played a very unique role, compared to that of our typical project work. Reflecting on our completed work in Phase 2, I'm personally appreciative of this opportunity to design MEP systems to look "good". In the process, I was able to specifically expand my fire protection knowledge and piping expertise.
This project required creative solutions. It required deep knowledge of the client's vision that transcended design plans. It required a human understanding and appreciation for creating this work of art, including the MEP, in order to preserve art.
On a side-note, I'd like to recognize the Marble Institute for the immaculate craftsmanship on this project. It's not everyday, you get to witness such a unique, highly skilled trade.
---
---
---
---
---
---
---
---
---
---
---
---
---
---
---
Interested in what you see? Subscribe to receive monthly news and information
more tailored to what you need.