Patient Room Ventilation: New developments brewing from ASHRAE.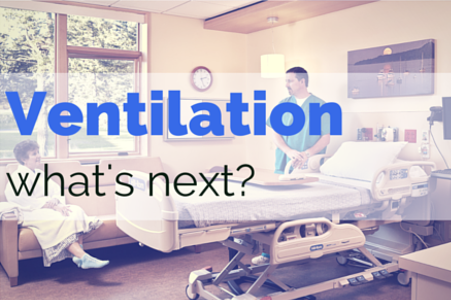 At a recent ASHRAE 170, Ventilation of Health Care Facilities meeting, we discussed the issue of unoccupied control in patient rooms. The bigger issue, and really opportunity, I see is realizing greater energy savings. My recap here:
According to the current Standard, for rooms that require a pressure differential, the air volume can be reduced when unoccupied as long as the pressure relationship is maintained.  Authorities having jurisdiction are interpreting this as: rooms that do not require a pressure relationship, cannot be reduced below the required air change per hour (ACH). The committee will release an interpretation for patient rooms detailing the following: as long as the max relative humidity (Rh) is not exceeded and the room can return to maintaining the required conditions as soon as occupied (ACHs, temperature and humidity), the ACHs can be reduced. (I personally would recommend no lower than one ACH, in order to maintain the Rh). This allows you to utilize the hospital's Admittance Discharge Tracking (ADT) system and Building Automation System (BAS) to track when a patient is assigned to a room. This can save considerable energy.
A few other items that may be coming down the pike with ASHRAE 170:
Exam rooms: We will most likely see two "classes" of exam room in the near future.
For patients who could potentially have "undiagnosed gastrointestinal, respiratory or skin symptoms" we would still require the current 6 ACHs
For all other category of patients, we would only require 4 ACHs.
Adiabatic Humidifiers: An addendum to allow adiabatic humidifiers is now out for public comment.
Laboratories – We will probably soon see an addendum relative to ACHs in laboratories. There are a number of laboratories currently in the Guidelines.  We are looking at combining most of these, requiring only one ACH rate (probably 6 ACHs) but require completion of a risk assessment (per  Z9.5) to determine if additional ACH's are necessary.
We are also exploring to allow demand-control ventilation in laboratories to control the ACHs. (There will be specific contaminants, again based on the risk assessment, other than CO2 that would be monitored). This would be especially helpful in laboratories requiring more than the six ACH's due to the potential for contaminants; you would only have to increase the ACHs when the contaminants were present.
Need more clarification on a topic related to ventilation? Don't hesitate to reach out to me.
---
---
---
---
---
---
---
---
---
---
---
---
---
---
---
Interested in what you see? Subscribe to receive monthly news and information
more tailored to what you need.