Women @ Mazzetti – Fall Update
It's officially fall season and the color of the leaves are changing. Mazzetti has also gone through a few changes the past few months, leading our % of women to decrease.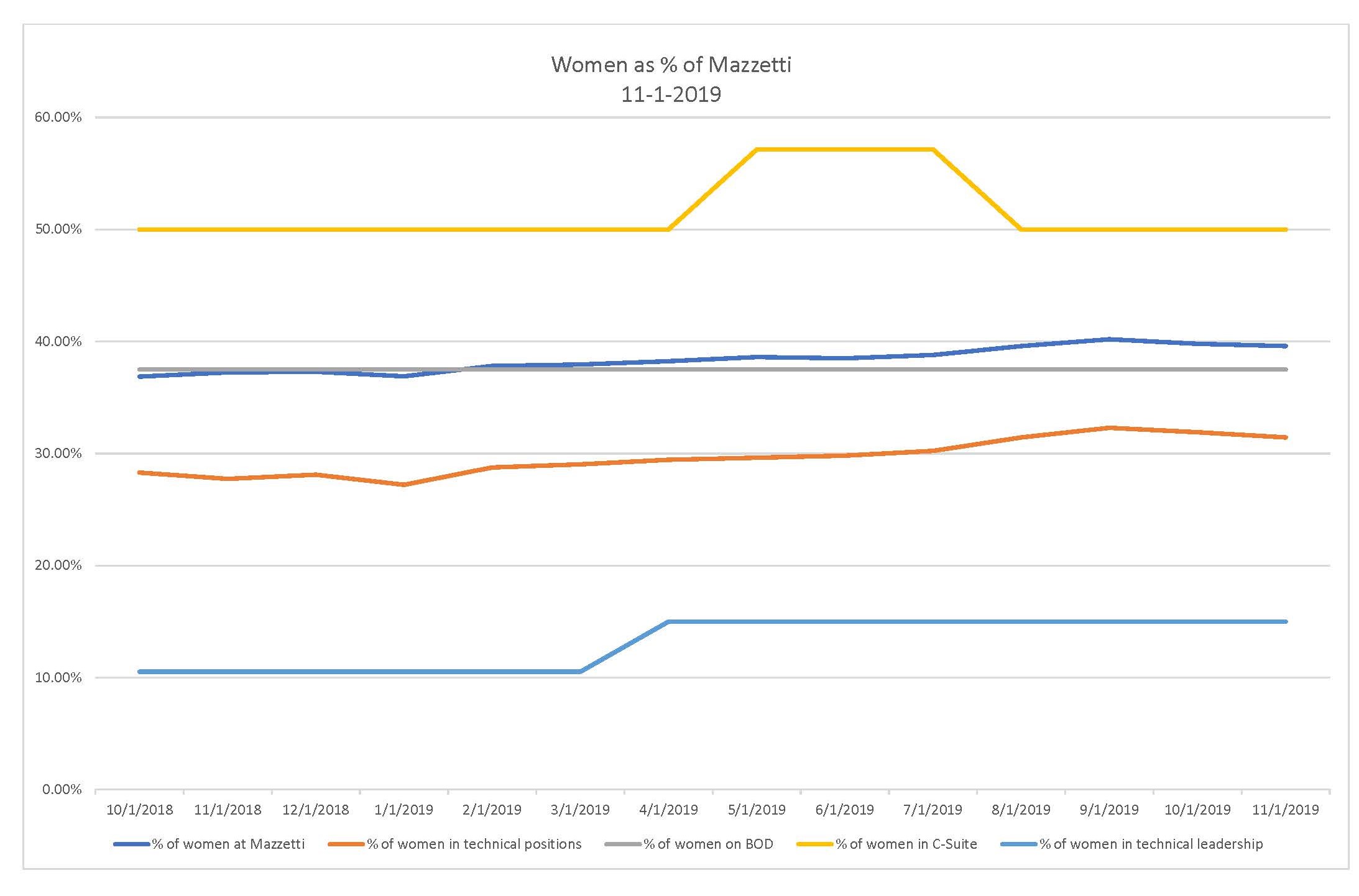 As expected like the seasons, things change, and we keep moving on. On the bright side, there are some exciting activities Women@Mazzetti has been doing including attending the Society of Women Engineers national conference in Anaheim this month and starting an internal women leadership mentoring program.
We (Angelica Chow and Cassidy Thompson) are not just W@M co-chairs; we are also actively involved with the Society of Women Engineers, a non-profit organization supporting women in engineering that started nearly 70 years ago. Both of us were former officers involved with outreach and business development in the Cal Poly San Luis Obispo collegiate section. And now, we are both a part of the leadership team in the Golden Gate professional section.
With an expected attendance of over 14,000 people, the SWE annual conference (WE19) in Anaheim, proved to be inspiring, resourceful, and empowering. We were inspired by the stories of overcoming adversaries from keynote speakers and attended sessions discussing and teaching everything from time management skills to zero net energy buildings to recognizing bias.
As engineers working in the AEC (architecture, engineering, and construction) industry, the presentation on zero net energy (ZNE) buildings really got our minds thinking. California is on the fore front of energy efficiency with ambitious goals for zero net energy buildings. We can see the state moving towards these goals, especially with the most recent code cycle of Title 24, Part 6, which now includes healthcare facilities. This is important for our California offices (San Francisco, Irvine, and Sacramento) given the healthcare aspect of the projects we work on. One aspect of a ZNE building that the presentation focused on was embodied carbon. While energy standards help us focus on building performance and energy usage, we also need to pay attention to the carbon dioxide emitted during the manufacture, transport, and construction of building materials. The more we learn about energy efficiency and zero net energy, the more we realize the importance and our role in building better and sustainable buildings for the future. It's exciting time to see how our industry will change as we must comply with new standards and change the way we design in order to achieve zero net energy and zero net carbon goals.
Technical talk aside, at WE19, we also learned the importance of recognizing our value as women engineers, the innovative and diverse ideas we can bring to the table, and to not downplay our achievements. We are both very happy to work for a company that realizes all of this. With a CEO, managers, and co-workers who support and advocate for us, we have found ourselves as stronger and more confident engineers. And until the day we reach our ambitious goal of being the most women-friendly engineering firm, Mazzetti and W@M will not stop advocating for women in engineering.
---
---
---
---
---
---
---
---
---
---
---
---
---
---
---
Interested in what you see? Subscribe to receive monthly news and information
more tailored to what you need.