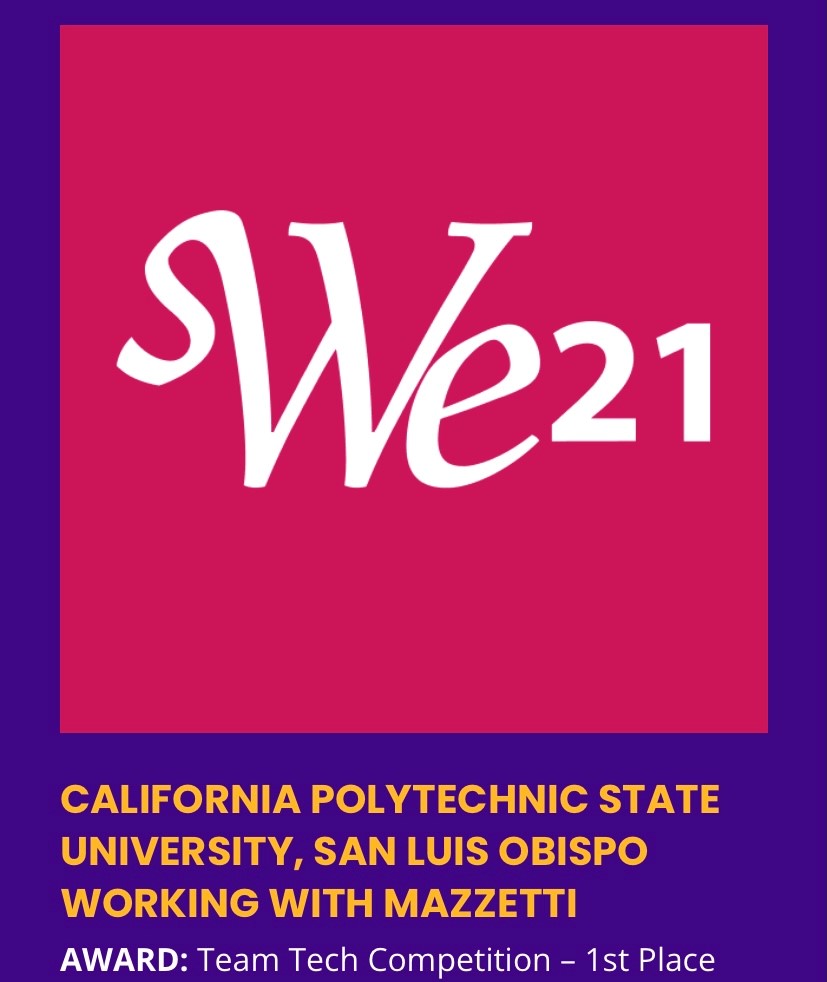 What do college students, oxygen, engineers, and a Southern African country have in common? 
Oxygen generators are a growing need in developing countries — Mazzetti worked with California Polytechnical State University (Cal Poly) students to find a solution. 
Continuing our 8-year long relationship with Team Tech, earlier this year Mazzetti collaborated with a team of students for the annual Cal Poly Society of Women Engineers Team Tech competition — a collegiate competition focused on the importance of teamwork and interfacing with the engineering industry.  We are proud to report, our team took first place!  
The team, in addition to an elite group of Cal Poly students, included Mazzetti advisors: Karina Hong, Keisha Thomas, Brian Hans and Sue Rossberg. Focused on healthcare engineering, we originally considered re-engineering hospital pillows. However, after extensive research, the team concluded no significant need to change the design of hospital pillows, nor the systems used to disinfect them. We were headed down the path of over-engineering; so, halfway through the project we changed course. We knew we wanted to impact society at-large…We ultimately arrived at something completely different — a small-scale oxygen generator system.  
The new goal was to design a system that could be easily used in developing countries, specifically Malawi (Southern Africa), where a Cal Poly professor already identified a need and had a contact. This meant the system had to require minimal and easy maintenance, inexpensive parts, and be powered by clean, renewable energy. Traditional Oxygen generators used to refill bottled oxygen require very large motors (100 HP or more) and are quite expensive to build. At first, we wanted to evaluate if multiple organizations could partner together to create large plants and share resources, but after some research, we realized local generation on a smaller scale for the refilling of bottled oxygen with smaller, less expensive equipment was the most ideal. We ultimately designed a new oxygen generator that would be capable of refilling 1-2 oxygen bottles a day. 
"Getting guidance and feedback from Mazzetti throughout our project has been immensely helpful. Working with Mazzetti has taught me a lot about technical aspects of our project, as well as soft skills in professional communication, effective project management, etc. All in all, I've learned a lot from them and been very inspired along the way." – Claire Franz (Team Tech Treasurer)
"The support from Mazzetti has been effective, meaningful, and a true learning experience. Each meeting there was knowledge to gain, whether technical advice on constraints and industry standards or tips on encouraging teamwork and engaging members' participation on the project. Overall, Mazzetti helped me discover new ways to improve my management of the team and my understanding of what it takes to undergo a year-long project," – Julianna Caballero (Team Tech Co-Director) 
One of the most rewarding parts of Team Tech is mentoring the next generation of problem solvers. Mazzetti has always prioritized knowledge-sharing, whether it's via published articles, presentations, or one-on-one mentoring. In this mentoring experience, our engineers all agreed, the learning was a two-way street. Yes, we are helping shape the next generation of engineers, and they're helping us become better engineers today. After working with the Cal Poly team, Brian Hans shared, "I think the experience has renewed my energy! To be working with a young dynamic team has been really exciting for me. Being able to mentor them and see how quickly they adapt, and grow has been really impressive. Their choice of project is great to see and how they really want to make an impact on the world at large is exemplary!" 
Keisha Thomas also enjoyed her time with the students: "The experience is impressive. As I witnessed the internal coordination of such a challenging project, I've learned how I can further improve my own project management craft. The Cal Poly team [was] eager, persistent, and diligent. I commend their desire to make an impact in Sustainability and to help the disadvantaged in our world."  

Now that this project is successfully completed, we look forward to potentially aiding in the installation and training for locals in Malawi (via Mazzetti's non-profit Sextant Foundation). It was an absolute pleasure to work with the Team Tech group, and we hope to continue fostering these relationships for years to come!