Our Women@Mazzetti numbers are holding steady as we head into fall and continue working from our home offices.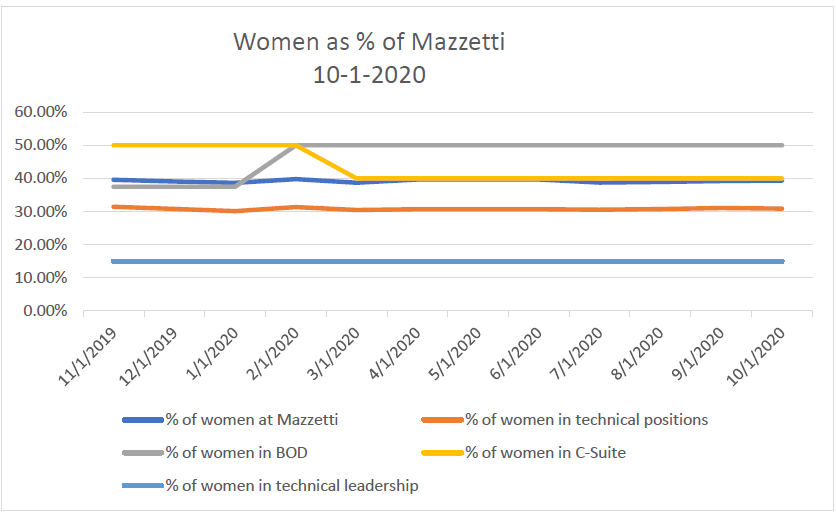 Although we are still in the midst of the COVID-19 pandemic, there are many other events happening that deserve attention, including the US Election approaching on November 3rd. The Women@Mazzetti committee encourages everyone – Mazzetti-ites and beyond – to make sure that you are registered to vote and to have a plan for how you will vote this year whether it be early voting, in person, or by mail. For Mazzetti employees, we are fortunate to be able to take time out from the workday to vote in person if we choose to do so. As our CEO Walt said in a recent post to employees, "we have inherited a wonderful gift of democratic institutions created from the blood, sweat, and tears of those who have come before us. We owe it to them, and to our children to do our part." For resources on voting, please visit www.vote.org.
W@M September Spotlight: Keisha Thomas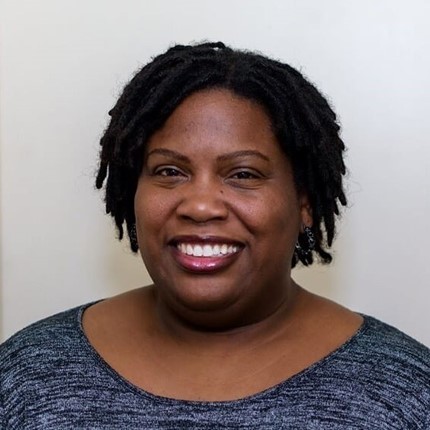 Keisha Thomas is a Senior Electrical Designer in our Portland office. With a PhD in Electrical Engineering and many years of industry and academic experience, she came to Mazzetti over two years ago and has since become an indispensable part of our team and project delivery!
When Keisha started college, she was unsure what she wanted to study, but she chose engineering after doing process of elimination on all the available majors. She graduated from Delaware State University with a bachelor's degree in Physics and a minor in Engineering. She then pursued a master's degree in Electrical Engineering, which is where she became interested in Power Systems. After an internship with Duke Energy, she received an offer with the company and soon began working full time while also continuing her education to pursue her PhD. After moving to Kentucky with her family for her husband's career, Keisha completed her PhD from the University of North Carolina at Charlotte and continued working in sensor design for Lexmark. While there, she helped develop new patented technologies and received several awards for her work. Keisha relocated to Oregon and transitioned back into power engineering. She worked in industrial power facilities maintenance and operations, performed electrical power forecasts, and supported renovations and new construction for Intel.
After earning her PhD, Keisha also worked as an adjunct professor in electrical engineering and physics for several years. She enjoyed having industry experience as a professor and being able to tie real world applications into her teaching. Ultimately, Keisha found that she likes the pace and challenge of the industry more than working in the academic world.
As a woman of color in engineering, Keisha has faced a lot of discrimination and adversity throughout her career. She has had her education and legitimacy questioned and was often told that she did not possess the proper experience and skills to be in her position. Early on in her career, Keisha was elevated to a team leader position after a company merger, generating tension in the workplace. Although she initially faced push back, Keisha learned that by helping people do their jobs better, she was able to win people over. She emphasized the importance of having allies and advocates in your workplace who support you and willing to stand up for you. 
When asked about maintaining work-life balance, Keisha acknowledges (from experience) that it's her responsibility to control (for herself) and be honest about what is needed. Regardless of position, she feels everyone can value from learning to look (plan) ahead, evaluate task duration and complexity, and identify help needed. She also emphasized how important it is to have an understanding manager and HR director who are willing to accommodate her needs. Since the onset of the pandemic, Keisha has been working at home and has now transitioned to working part-time to help her children with distance learning.
Keisha said that she would like to see "more educational sessions for men to understand their biases with women in the industry and to hold their fellow male counterparts accountable." She said, "Often, the burden is on women to be trained to deal with biased men, but little burden is on men. This idea that women are expected to do the work to advocate for themselves is something that we recently discussed at a Women@Mazzetti committee meeting. Using the AIA Guides for Equitable Practices as a starting place, we had a very fruitful conversation around self-advocacy and whether people being held back from their full potential at work is an individual issue or a systemic issue. A great point was raised— typically women are encouraged to "think more like a man" and be more confident and assertive in order to advocate for themselves, but why aren't men being encouraged to "think more like a woman", understanding the many pressures that women face (both professionally and beyond) that often keep them from self-advocating?
One strategy that Keisha has employed to remind herself of her value and help her self-advocate is to keep an "Atta Girl" list. Whenever she receives compliments or kind words from coworkers and industry peers, she adds them to her list. Then when she needs a bit of extra encouragement or some references for her annual review, she can go back to it. Keisha's passion for engineering and her persistence is so inspiring. We are very lucky to have her on our Mazzetti Team! Atta girl Keisha!