Lucile Packard's Children's Hospital: Where Innovation is Reality
On Monday, I had a kind of bittersweet experience, as I was able to join Perkins + Will (P+W) Healthcare designers from around the country to tour the new Lucile Packard Children's Hospital Stanford (Packard Children's ). (We were design partners, along with HGA, for over a decade on this project.)
The sweet part was being able to spend time with so many wonderfully creative people, touring this most amazing, innovative project, and the pride I felt in what our people had collectively created.
The bittersweet part was that this is probably one of the last engineering design projects in which I can claim to have had an active role. As Mazzetti has grown and my focus forced to change, I am still able to help on projects here and there but not in the same leadership type of role I previously took. With Packard Children's, I was privileged to work alongside a great team of architects, as well as the great people of Mazzetti. And my gosh, it shows!
Packard Children's Hospital, in Palo Alto California, will be one of the most sustainable large hospitals in the country. It will be the first US hospital to use Displacement Ventilation in all patient areas, reducing first costs and energy consumption/costs. Accomplishing this feat required intricate coordination between the architectural team, the engineering team, and the energy modeling team.
It required carefully designed exterior shading systems integrated with sensors in the building, working with the building automation system (see below).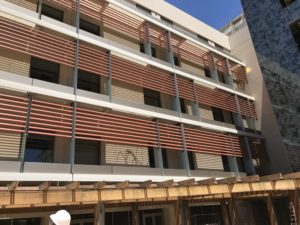 Indeed, the energy design of this building was so critical, that in early stages of the project, we worked with the EIR team to craft a Carbon Emissions forecast and a set of sustainability strategies from water to effluent to energy that are remarkable in their aspiration. Many of these ideas originated from the Kaiser SHBI competition, we won with P+W.
But, as proud as I am of the exceptional engineering that went into this building, I was blown away by the care, and the thought, and the genius, really, of the whole team, led by my friend Robin Guenther (at P+W). I started working with Robin on the Green Guide for Healthcare (GGHC), when I was a young engineer, eagerly trying to help Kaiser with its national energy needs. Robin and I spent years working with so many great people on the GGHC. So, to now be able to bring that spirit of voluntarily innovating to eliminate waste in the form of wasted energy, water, materials, and health on this beautiful building was the opportunity of a lifetime.
The teamwork to craft this place of healing was truly inspiring and a monument to all the many people we have worked with along the way to make it a reality.
(Scheduled Open Date: December 2017)
---
---
---
---
---
---
---
---
---
---
---
---
---
---
---
Interested in what you see? Subscribe to receive monthly news and information
more tailored to what you need.