The Nexus Between Global Health and Energy Access – Continued
Another panel of speakers from the recent UN Sustainability For All Forum  spoke to the particular health needs of women giving birth in a place with limited and/or unreliable electricity. Prominent among them was Maurizio Vecchione, Senior Vice President for Global Good and Research, Intellectual Ventures, who partners with the Gates Foundation for the development of technologies intended to benefit the developing world.
The Gates Foundation, among many other projects, is now working on the problems of low-energy medical equipment. As an example, Mr. Vecchione said that, during the time of the presentation, seven children would die due to lack of oxygen. Most of them would be in places that had oxygen generators – but that the generators require more electricity than was available. He argued that we could create low-energy oxygen generators, but we just don't bother because we, in the developed world, don't need them.
He also pointed out that the largest cause of maternal mortality was preventable hemorrhage from child birth. The problem is, these women can be saved with a very common drug; it's just that the drug must be refrigerated, and the clinics don't usually have enough electricity to operate the refrigerators.
A number of years ago, the WHO asked me to write a book, Health in the Green Economy, prescribing needed interventions from the health sector to simultaneously mitigate climate destruction and achieve health co-benefits. That book remains on the editing desk, but in it, we argued that policy makers needed to be focusing on and encouraging the development of low-energy medical devices. That need remains urgent. As urgent, though, is the need to properly equip clinics with refrigeration and with electrical systems sufficient to power them. Moreover, these systems need to be sufficiently robust to operate with a minimum of intervention and easy repair when they do fail.
At the recent WHO meeting on the nexus between health and energy access, I proposed a set of "Maslow's Hierarchies" of healthcare facility needs: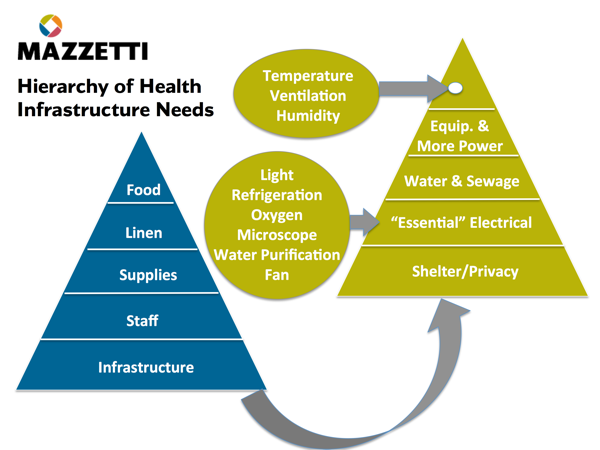 These problems are not easy to address. The Sextant Foundation has figured out a unique model for helping to provide for some of these needs. But when I was recently talking to a representative from the UN Foundation, he mentioned the issue of people who have nothing. The Sextant solution works when there is an operating clinic that is already spending money on electricity. We can make Sextant work because we can lower existing costs and still do it with a viable economic model so that the project is not dependent on charity. (People most often donate in response to a dramatic catastrophe but not so much for chronic, ongoing catastrophes). What though, about the places in the world where there is NO money being spent on electricity? A project bringing in new energy costs money, in which there there is little or no money available–how do you help these people?
I don't know, yet, but I'm sure that using our collective wisdom, brainpower and collaboration, we can figure it out. Let me know if you have ideas. We owe it to the young mothers and the seven babies who just died.
---
---
---
---
---
---
---
---
---
---
---
---
---
---
---
Interested in what you see? Subscribe to receive monthly news and information
more tailored to what you need.