10 Predictions for the Future of Healthcare
In 2013 and 2014, The Facility Guidelines Institute (FGI) led a series of workshops to try to discern ways that healthcare would evolve and the likely impact on the built environment. (Disclosure: I am on the board of directors, chairing research and development.) That work is well-documented on their website (www.fgiguidelines.org). It used scenario planning to examine 16 fundamental forces, and how they would come together (like the fingers on a ouija board) to point to the right answer.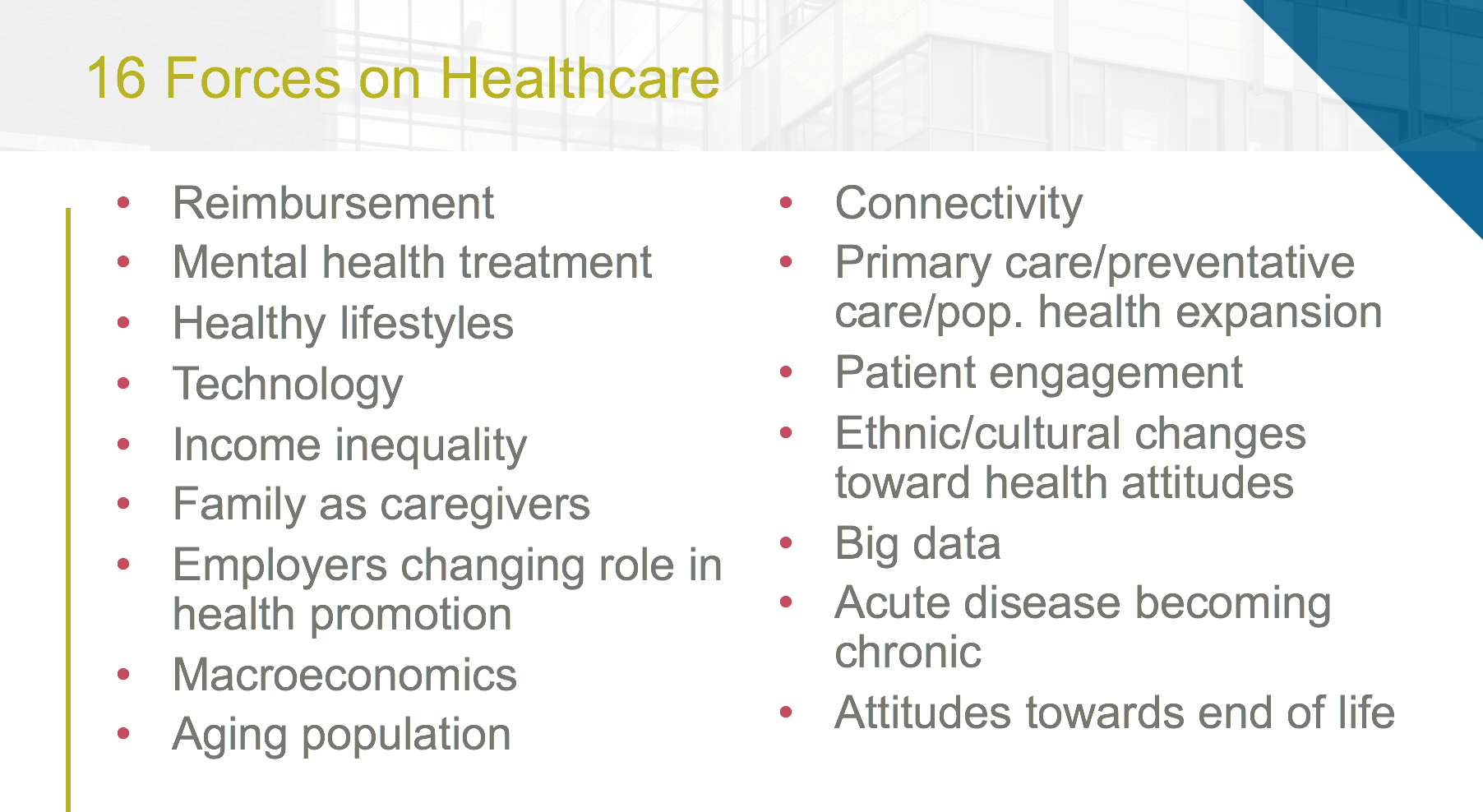 Thinking deeply about these trends, and their possible expression, the FGI concluded that the future (with respect to the FGI) was going to look something like this: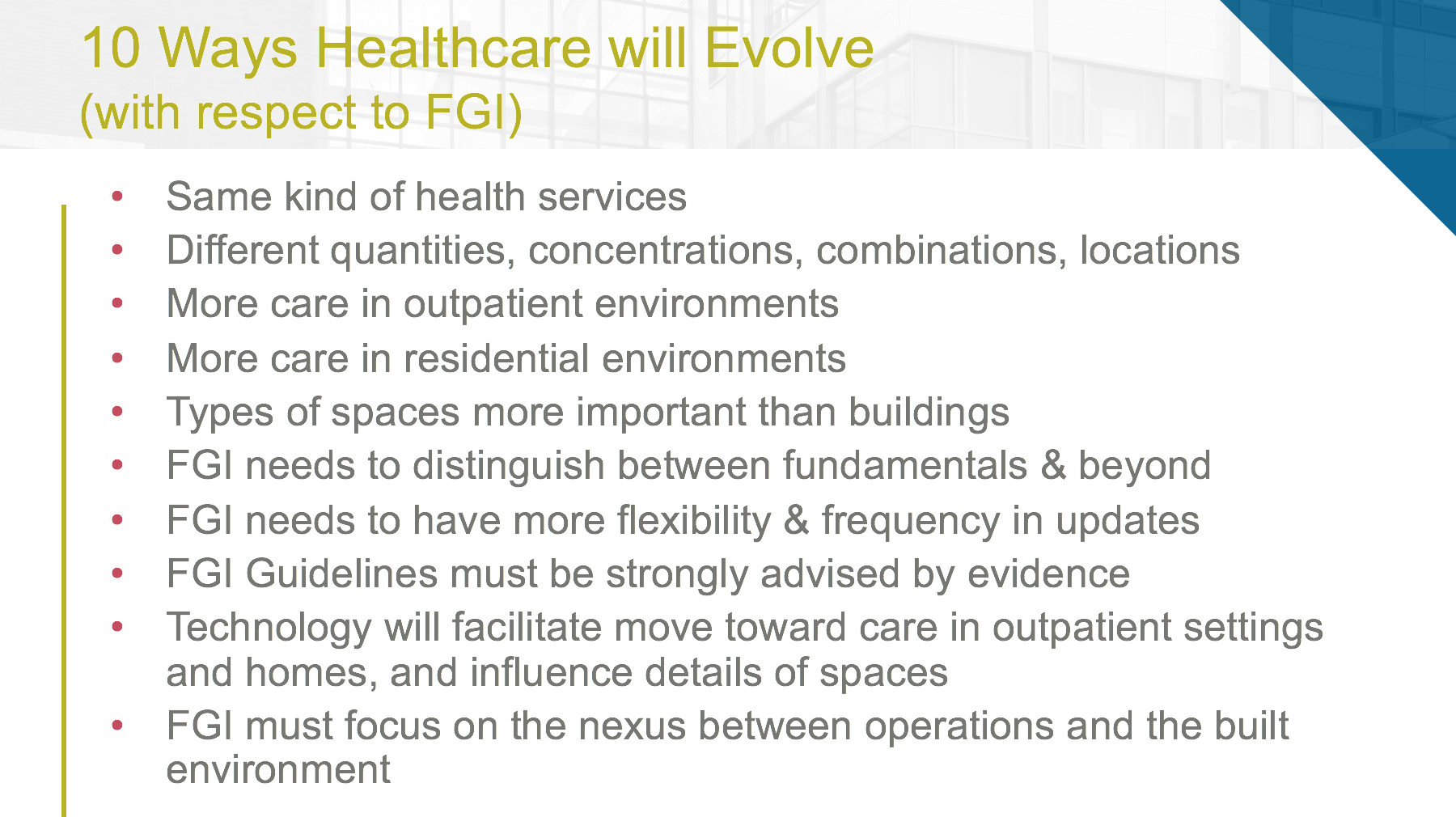 Since that experience, I have been thinking deeply about this–about how the FGI needs to be pursuing its follow-on research to help and how to find ways to help healthcare organizations to respond.
As an engineer, with an engineering company, I have little ability to influence national reimbursement policy, or patient engagement (other, perhaps, than my own, and that of people close to me). But, there are two things that engineers do well, that I am increasingly focused on.
First, engineers are good at designing effective PROCESS. This process engineering has moved into healthcare. We now have quality programs, LEAN programs, and process improvement programs. Improvements from these processes tend to be incremental but dramatically effective over time. One of the things that emerged from the FGI work was that, as much as we need effectively designed buildings, maybe more importantly, is effectively designed HEALTHCARE. And the kinds of changes and kinds of designs needed may be more dramatic than those we have normally seen in the strict process improvement world.
I was at an ACHE conference a few months ago, talking with healthcare CEOs. At the time, the FGI was considering creating an Advisory committee of healthcare CEOs to help us keep a constant view of the future, so that we could continually reinvent ourselves and continually stay ahead of the industry. One of the CEOs told me, "You don't want us; hospital CEOs are the most conservative, risk-averse people there are. If you want to know about the future of healthcare, go talk to tech entrepreneurs." Indeed.
And that is the second most important reality for healthcare–technology. It will be the lever that frees process and experience designers to really create innovative designs for a new healthcare. Technology by itself can never solve a problem; only technology stitched together with carefully designed systemic human responses, can technology make a difference.
So, coupling industrial, process engineering, and design with technology is the direction I am trying to steer. Over the years, Mazzetti has been sending our people for training in LEAN and process improvement. Like Jonas Salk, who vaccinated himself and his family against polio to show that it worked, we have been doing the hard work of learning to use these tools on our own operations. Now, as we combine forces with GBA, the icon of healthcare technology, we aim to fill this need, and to work with clients to help them find ever better ways of delivering health to the populations they serve.
For, the people they are serving, are us.
---
---
---
---
---
---
---
---
---
---
---
---
---
---
---
Interested in what you see? Subscribe to receive monthly news and information
more tailored to what you need.