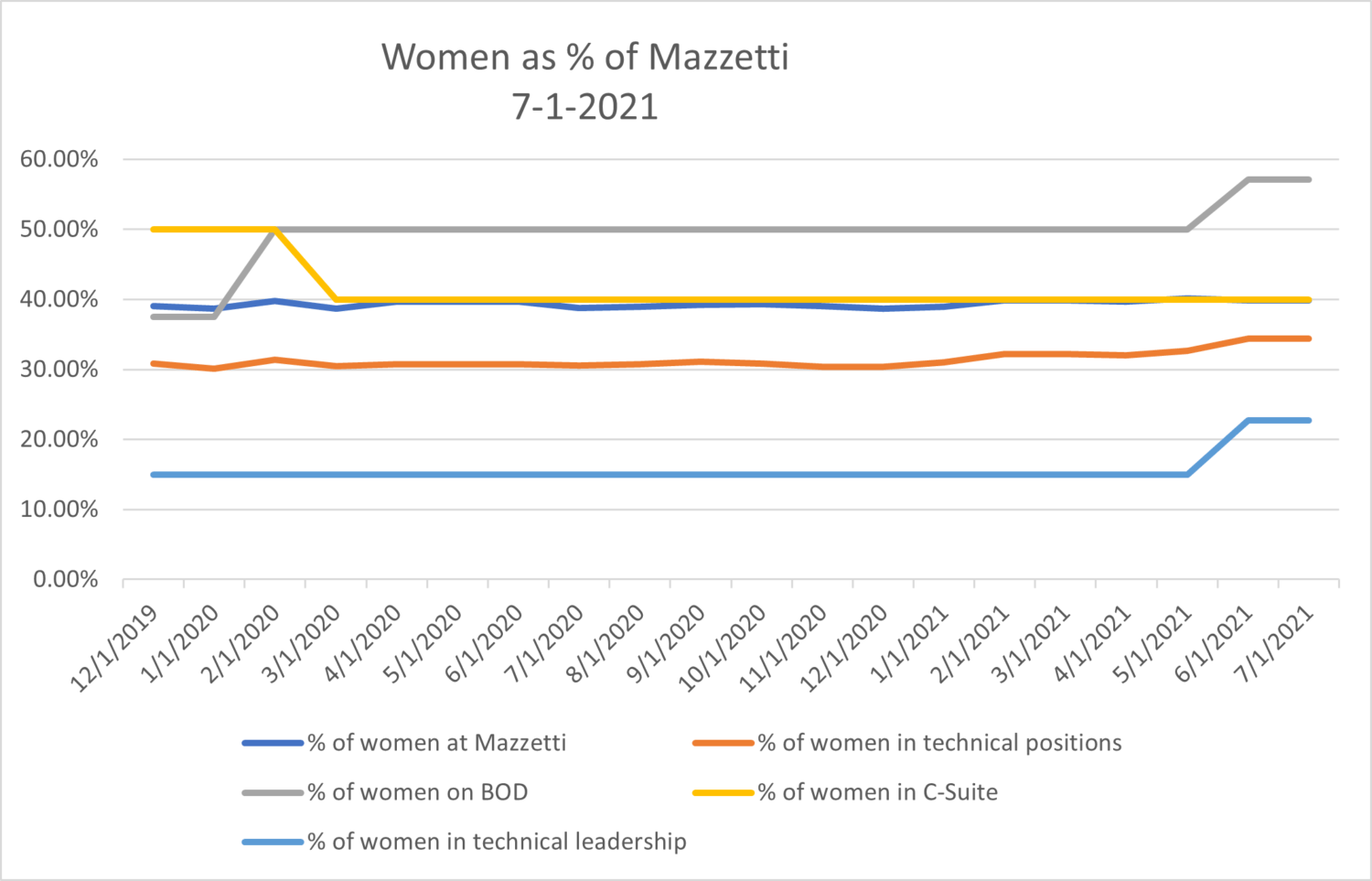 Summer is here—temperatures are rising, but our W@M numbers are holding steady for the month (per graph above).
The W@M committee is busy planning, promoting, and hosting several upcoming events, including another company-wide meet-n- greet to launch our mentorship program, a diversity training ("Grey Area Thinking") scheduled this fall, and a company-wide interactive discussion (in conjunction with our DEIJ committee) re equitable opportunities inside Mazzetti. We are excited about all of these internal events, and we aspire to extend externally in the future.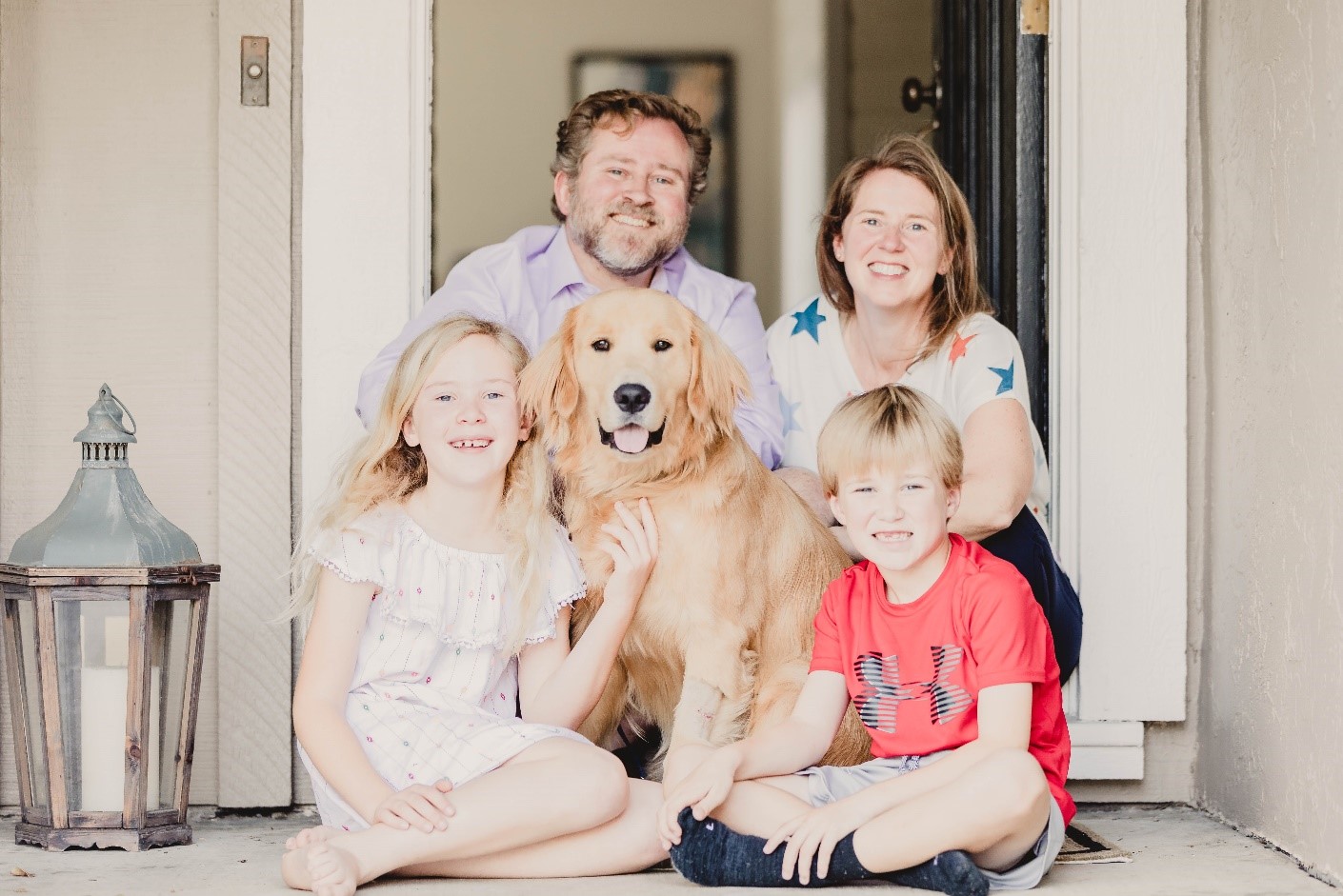 Women@Mazzetti Spotlight: Nikki Tuft
This month's Women@Mazzetti spotlight is on Nikki Tuft, a Senior Technology Consultant working from San Francisco, CA. She began her career with our Technology Division, Mazzetti + GBA, 21 years ago, upon graduation as a Biomedical Engineer. Nikki found herself in a unique position—her classmate, at alma mater Vanderbilt, told her about the position of Technology Consulting and Medical Equipment Planning, and, while Nikki's major didn't directly translate to the role, she thought she would enjoy consulting… She was right!
Nikki feels while her formal education gave her a solid foundation for this field (including a problem-solving mindset and collaborative approach), most of her role's responsibilities have been learned on the job, especially in those first few years. She quickly started working on projects with another project manager, providing her invaluable guidance and support (including the confidence to start taking more of a leadership role on projects).  Female mentors have been scarce in her division; however, she has been successful in sourcing supportive mentors externally.
On the topic of Nikki's "one-company career", she candidly attributed it mostly to her slightly change-averse personality. Throughout the years, she has gained a lot of knowledge and confidence in the work she does and established solid foundations and relationships with her clients. She has learned, clients do not necessarily expect consultants to have all the "right" answers immediately. Clients do, however, appreciate quick, effective communication and consistent follow-through. Flexibility to work remotely full-time (well before the pandemic forced this reality!) also contributes to Nikki's job satisfaction.
Though working remotely was not foreign for Nikki, her two children doing school from home at the same time, was an adjustment. Her son's desk was actually just behind her in the same room! While far from easy, she has seen her kids discover new-found independence and creativity. She has also enjoyed regular game nights with her family. And, similar to many prior to the pandemic, work travel was fairly regular. Now with the robust video-conferencing tools, she appreciates spending less time traveling and more time for productivity.
As a woman in a male-dominated industry, Nikki recalls at the beginning of her career the women she encountered were usually nurses; now, she is appreciates seeing more women in owner representative, project management, architect, and engineering roles. She believes that having diversity in meetings gives different perspectives. And, though her kids are well beyond the baby stage, she is appreciative of the progress made for working moms–the proliferation of lactation rooms, including inside Mazzetti offices, improved maternity leave, and overall increased pay equity in the PDC industry. It's progress.
Nikki's advice for young women entering the workforce is to "show kindness AND confidence; take risks and support other women in your industry".
While she is happy in her current role and cannot imagine changing her prime work/life balance, she is interested in becoming a Team Leader as a future career step. Though she enjoys working with clients, she would also like to lead and mentor others to experience their own success.
Nikki is a significant player and partner in our firm, and we could not imagine work without her!