In just the nick of time, we have our spotlight on Hannah Mobarekeh for the month of July! Enjoy!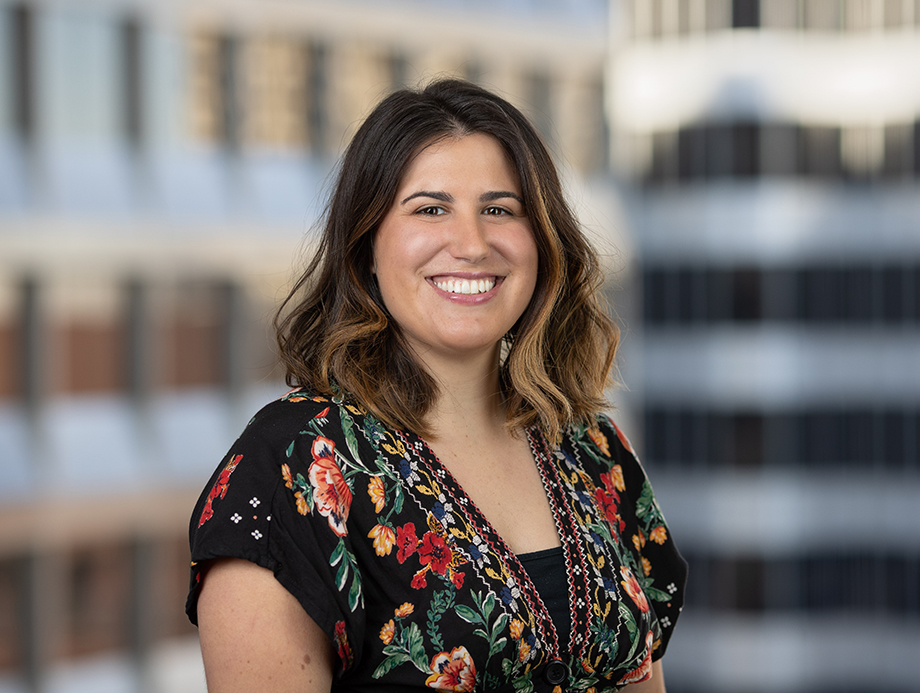 Hannah is a Business Development Manager in Mazzetti's San Francisco office, a role that she has been advancing for the past four years. After studying journalism and marketing at the University of Central Florida, Hannah desired to become an Editor-in-Chief for a magazine and had an internship lined up in New York City. However, after a trip to visit her sister in San Francisco, she realized family is where "home" is and decided to cancel her internship and move to the Bay Area. Hannah played to her strengths as she searched for jobs that were adjacent to the tech industry and involved translating technical content for nontechnical audiences. She secured a position on the ground floor of a small engineering firm with just two people in the marketing department.
During her time at this sustainable engineering firm, Hannah helped build their marketing department from the ground up, partnering with her team member to establish and standardize their marketing practices. Craving the experience that comes with working for a larger firm, she then moved on to work for a national general contracting company in order to gain experience in other areas of the A/E/C industry. In her marketing roles, Hannah wore many hats, taking on increasing responsibility while adapting a "do it all" mentality, but realized that she was on a fast path for burnout. She came to Mazzetti in 2016 because, aside from missing the environment of a smaller, family style company, she was eager to specialize in business development and foster growth in a region that was booming with opportunities. Hannah said:
"Coaching teams for project interviews (especially long-range pursuits) and building consensus around complex issues is my favorite part of my job. When you can see someone blossom in front of the client, and really start to share their personalities and the passion that moves them forward everyday- those are the A-HA moments that keep my eyes bright! While much of what we do deals with technical concepts, I aim to bridge these technical stories with the humanity that connects us all."
Hannah credits much of her professional development to industry organizations and strong mentors. She is currently on the Board of Directors for the Society for Marketing Professional Services (SMPS) San Francisco Bay Area Chapter and fulfills a position as the Membership Co-Chair for the Association of Medical Facilities Professionals (AMFP) in Northern California. When she first joined the industry, Hannah got involved with the SMPS' Mentoring Pathways Program and was paired with a seasoned mentor who had a similar entrepreneurial mindset and helped her to navigate the beginning of her career in the A/E/C industry. Now, Hannah is more open to adopting mentors that do not work directly in Business Development. She has ascertained that even if these mentors do not share her background; she can learn important lessons from their leadership and management styles. Hannah has also begun to mentor junior Business Development and Marketing staff, working with her peers to help them navigate career transitions, negotiate, and find their own unique value propositions. As for some advice, Hannah encourages young professionals to find organizations that produce the most motivating content around their passions, and to seek out volunteer opportunities from there. She also urges ALL professionals to never refrain from asking questions to keep a growth mindset throughout one's career.
Beginning her career at 22 years-old, Hannah said she was under the impression that working long days and "doing it all" was the norm as it reflected what she saw in the workplace. Gradually, she learned that working at a frenzied pace was not healthy for work productivity or your mentality. Hannah believes that it is up to the leaders and managers of a company to set the example for working efficiently, including pushing for flexible work schedules. She would like to see more women in leadership positions in our industry as well as younger women being set up on a path to become leaders.
"Nurturing and grooming female leaders within an organization is incredibly important in 2020. It is no longer enough to select one woman to sit on a Board and call it female friendly; embracing women in STEM needs to be embedded in a company culture in many ways, like nurturing current employees and growing them into leaders, creating female mentorship programs, and having women represented at the Principal and Board-levels."
Nowadays, Hannah said her strategy for work-life harmony is a lesson in balance. She acknowledges that deadlines will always be there, but places her execution emphasis on productivity and priority, remaining steadfast on making time for her personal life as well.
"I run on productivity tools like Mindjet, Outlook Calendar, Slack, and Microsoft Teams, with a healthy serving of coffee in the mix!"
Hannah is very appreciative of the superstars of Business Development and Marketing at Mazzetti, crediting a reliable team where "everyone is willing to lend a helping hand to exceed expectations!"
Hannah said that she is "grateful to work for a company that contributes to society in a positive way, shaping the facilities that we can rely on to provide care in the times when we need it most." We are so glad to have Hannah working at Mazzetti and leading the way in our pursuit of challenging and innovative projects!