As we do every month (Coronavirus or not!), the following is our tracking of women at Mazzetti (as a percentage in specific positions).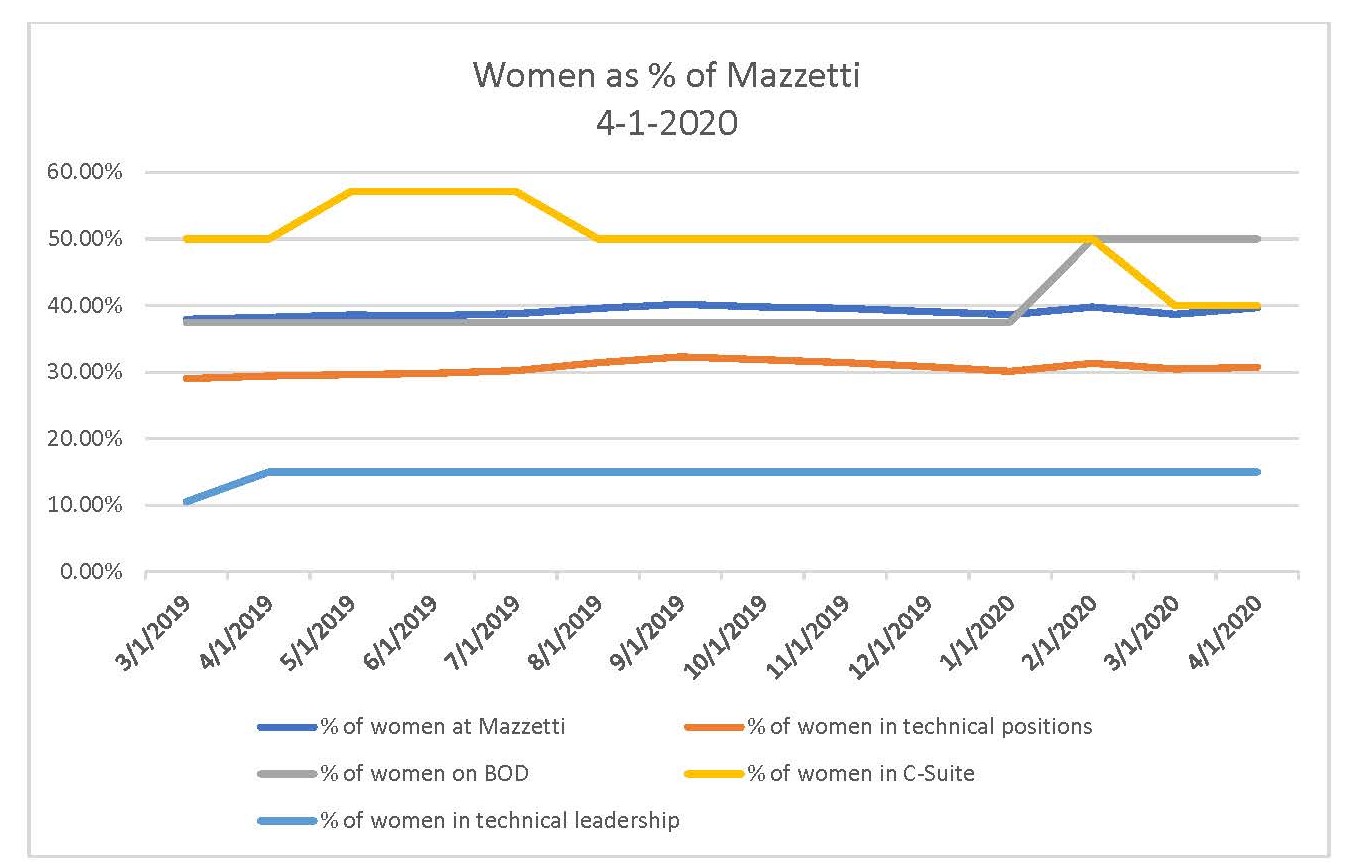 We hope everyone is doing well and staying healthy during this time! While our Women@Mazzetti numbers have not changed much since last month, our fellow Mazzetti-ites are grateful to still be in business and are diligently working on COVID-19 responses and projects. (COVID resources for our healthcare clients here.)
We recently came across an interesting article from Forbes: What do countries with the best Coronavirus responses have in common? Women Leaders. One thing, in particular, that stood out to us was the emphasis on not making women behave like men in order to lead. We do not mean this as a jab against other leaders – we want to highlight the important and different leadership styles that women can offer. Mazzetti recognizes that bringing more women voices to the leadership level also means bringing different ideas that will overall make the company better. Hence, the need for creating a women mentorship program to support more women leaders.
W@M April 2020 Spotlight: Sue Rossberg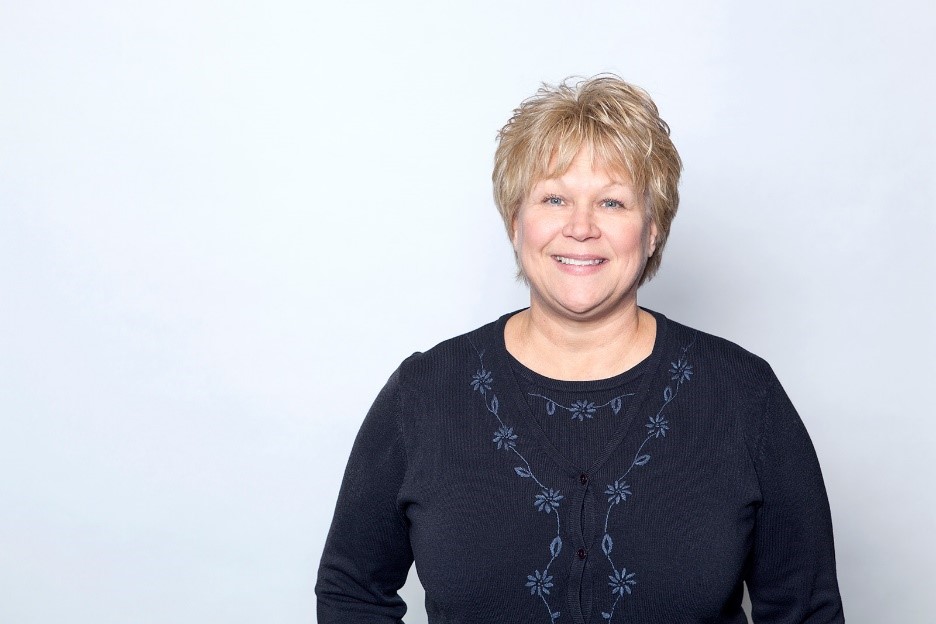 Sue Rossberg is the Human Resources Director for Mazzetti, working out of our Denver office. Sue says that she was drawn to a career in HR out of "pure dumb luck." After working as an HR assistant for six years, she returned to school to finish her undergrad degree and then went on law school. After finishing law school and passing the bar exam, she applied to both HR and law firm positions. She was hired as the first HR Director for Fentress Architects. At the time, she was a single mother raising a 13-year-old son. She was faced with the decision of choosing a career that would allow her the flexibility to spend time with her son. She ultimately decided that HR was the better path for her, and she doesn't regret it. She came to Mazzetti five years ago, and we are so glad she did!
Sue's advice for young women is to explore your options and, "adopt the mindset that the degree (or the license) is just the beginning – not the end." Essentially, earning a degree or license is like a rite of passage and the real work begins after, when you get to prove what you are capable of. She also encourages everyone to speak up and not be afraid to share your ideas. As an introvert, Sue said that she is "spoken over" in meetings fairly often, but she feels that when she does speak up, her ideas almost always impact the conversation in a positive way and bring a new perspective into the conversation.
As our HR Director, Sue has the unique position being able to observe and influence the overall performance of the company when it comes to diversity and equality. When we asked Sue about how she thought Mazzetti measured up to other companies in our industry in regards to gender diversity, she immediately turned to the numbers and showed us these charts: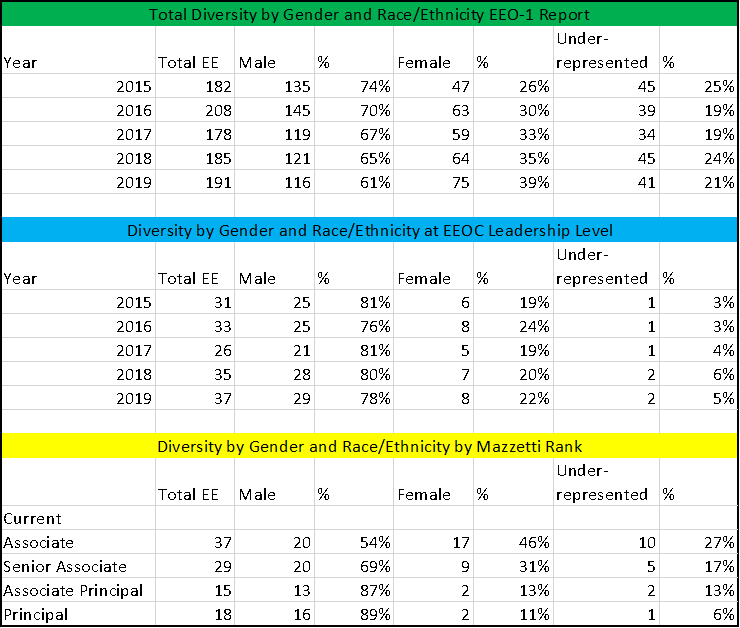 The first chart shows the overall number of women at the company–clear uptick in the number of women over the years. Current data shows that about 20% of engineering graduates are women, but women only make up about 16% of the engineering workforce. At Mazzetti, we have roughly 30% women in technical positions, but we still fall short when it comes to women in leadership positions. The last chart, Mazzetti's current data at each leadership level, illustrates that we are making progress towards promoting women at the Associate level. Over time, this should be reflected in the Senior Associate, Associate Principal, and Principal levels. We are making progress in both areas, but we, like most engineering firms, still have work to do!
Given her law background, we asked Sue what HR-related policy/law changes has she seen since the beginning of her career. She mentioned that paid family leave is a change that she is grateful to see happen. She believes that is a sign that society is becoming more aware of the importance of keeping women in the workforce and not punishing them for taking time off.  Sue is grateful that Mazzetti now offers paid maternity and paternity leave. One goal that Sue has for Mazzetti is to improve our family leave opportunities, making them more equal (for both men and women) to emphasize the importance of work life balance and equal parenting. We look forward to an improved and more balanced Mazzetti with Sue leading the way!