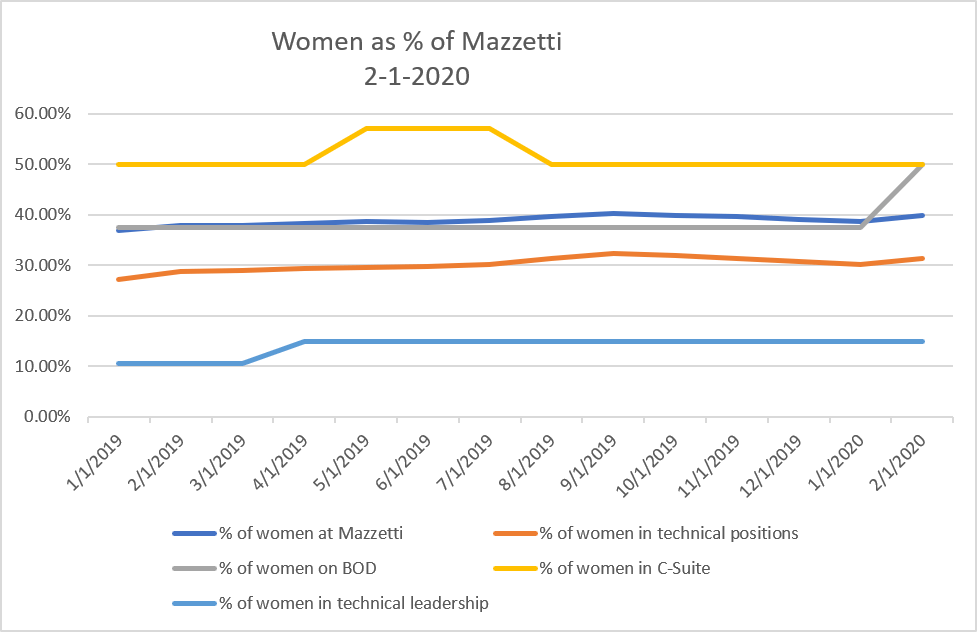 A month into the new year and Mazzetti is off to a good start with an uptick in our percentage of female staff. With personnel changes and a new board member, we have an increased percentage of women in technical positions and a gender equal Board of Directors.
Every year in January, we participate in Cal Poly San Luis Obispo's winter career fair to recruit the future workforce of Mazzetti. This year we had five young engineers (three of whom were women) from the San Francisco and Sacramento offices represent Mazzetti at the career fair. Such an exciting opportunity to speak to potential candidates and help these brilliant students find a future career home (hopefully with Mazzetti!). We also attended Cal Poly SLO Society of Women Engineers (SWE)'s annual Evening With Industry (EWI) dinner and donated $2K to help the collegiate section promote engineering opportunities for female students. The theme of the event was "The Future is 2020." We also believe 2020 will be a good year for Mazzetti to achieve more gender diversity within our work family!
---
W@M January 2020 Spotlight: Shannon Bunsen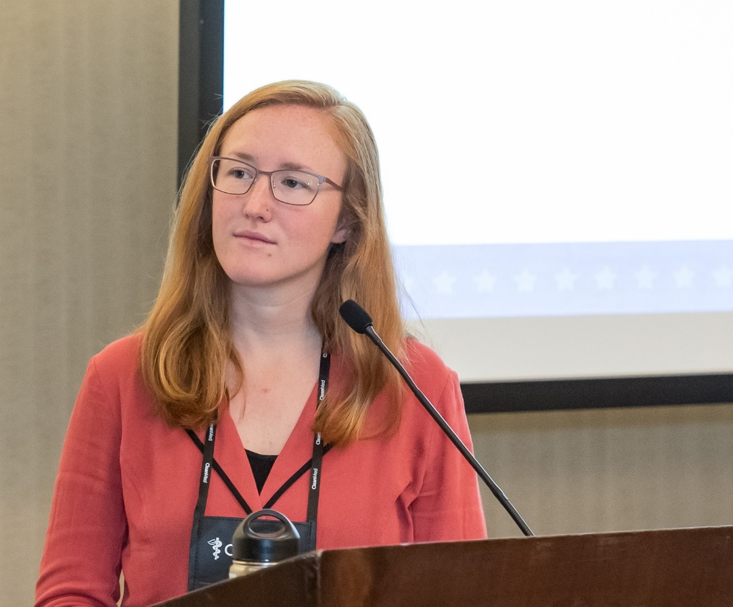 Shannon Bunsen is a sustainability project manager and the Executive Director of Sextant, the nonprofit founded by Mazzetti. She was enticed to enter Healthcare to help address the enormous amount of waste generated by the industry. Shannon is a great example of an individual who paved her own career path. She created her first job out of college from her involvement (as a student) with a sustainability committee at the hospital. She says that her career path has been both intentional and opportunistic. She met our CEO, Walt, when he came to interview her organization for an American Society of Healthcare Engineers (ASHE) awards program. Shannon joined Mazzetti almost three years ago after reconnecting with Walt through a shared connection. Working in such an innovative business, she said she often feels pressured to "speak engineer" even though she isn't one and to show that Mazzetti is consistently leading the effort in sustainability. She has found great support from her involvement in the Women@Mazzetti committee, encouragement from leadership at Mazzetti, and participation in a group for sustainability leaders in the MEP industry.
Shannon recalled times where she had been treated unprofessionally at industry events and meetings, but she said that, "the bright spots are the men at Mazzetti who want to know how to be better allies." She thinks it's important for all of us to be allies for our colleagues – something she's been advocating for with W@M. For much of her career so far, she has been the youngest person and often only female at the table, but she takes pride in her leadership and facilitation skills. Her advice to young women just starting their careers is to recognize and leverage the strengths we have as women. And if you aren't finding the right opportunities out there, look for where you can create them.
The Sextant Foundation is Mazzetti's nonprofit organization, catalyzed in response to the devastating 2010 earthquake in Haiti. As the director, Shannon manages the board and organizes all the projects, volunteers, and networking for the nonprofit. She works tirelessly to recruit Mazzetti employees and other industry connections as volunteers and builds connections with other organizations for Sextant projects such as installing solar panels, evaluating hospital infrastructure after disasters, and helping communities access clean water. We are so lucky to have her leading our efforts in sustainability and volunteering for global issues!