Last week, I had the pleasure of attending the National Society of Women Engineers Conference in Nashville, TN with three of my female colleagues. Over 8,000 women in various career stages gathered to network, to learn… to advance the growth and success for all women in engineering and technology and their respective organizations.
"Diversity trumps non-diversity every time" was a reoccurring theme throughout the three days. This is no longer just a "good thing to do." There's plenty of research directly correlating increased diversity, including women, with increased profitability & innovation. (Check out the SWE site if you don't believe me!)
In case you missed the conference, I compiled some expert tips for attracting and retaining women in the workplace.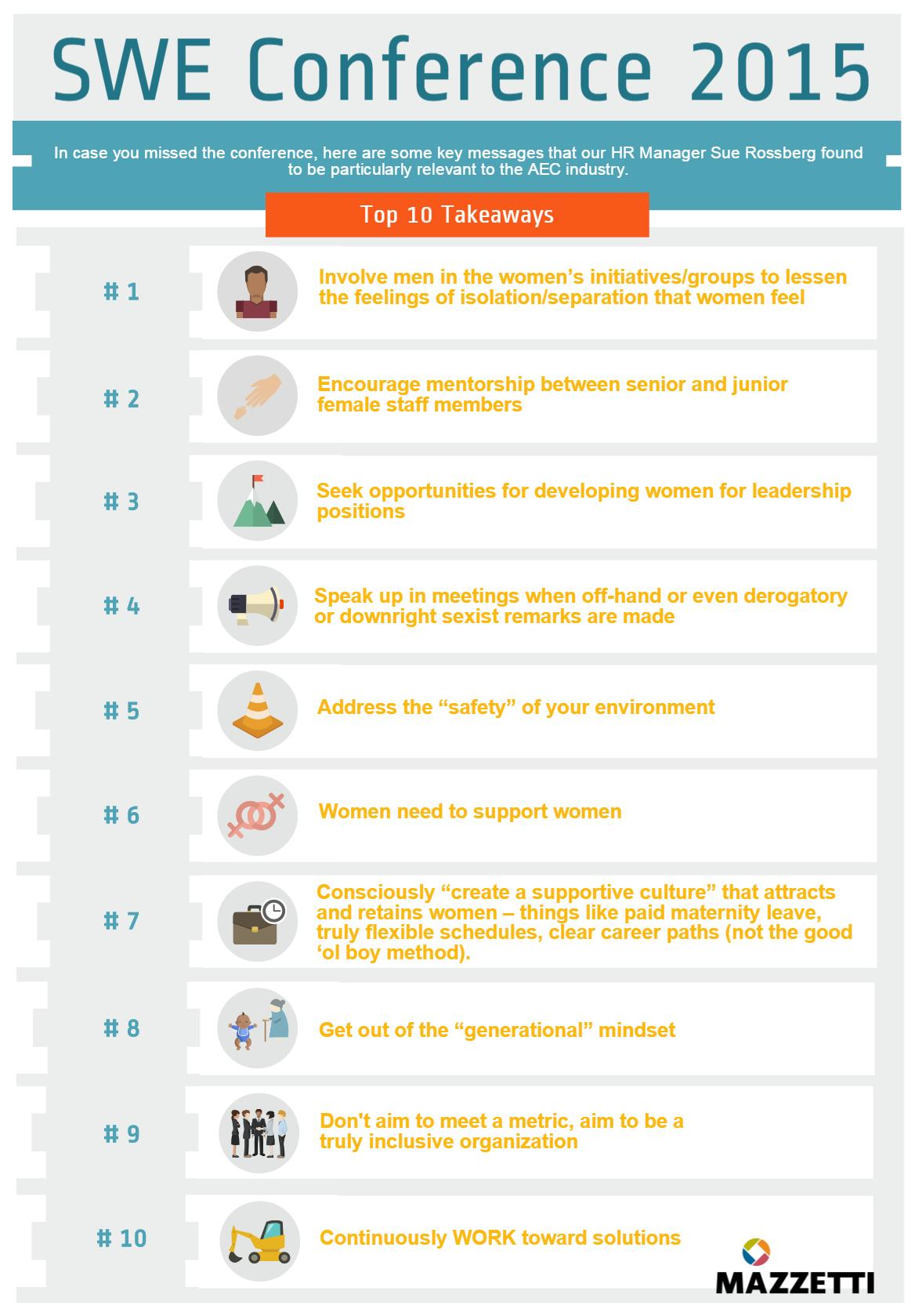 TOP TEN TAKEAWAYS:
1. Involve men in the women's initiatives/groups in the company to lessen the feelings of isolation/separation that women feel. A woman from Pakistan who had started a non-profit for women in STEM in Pakistan illustrated the importance of this. She holds design competitions for girls and involves boys on the teams so that the boys become familiar and comfortable working with girls from an early age. At North Dakota State University, they address diversity issues through a program called Advocates and Allies – FORWARD. More about this below.
2. Encourage mentorships. Women in STEM careers have an even greater responsibility to mentor and advocate for each other in order to overcome some of the unconscious bias that still exists in workplaces today. We must be active in this solution, particularly as we see other women struggling with issues that could be avoided with a little well-timed advice.
3. Seek opportunities for developing women for leadership positions. We've become complacent about the issue of women in leadership positions.  And complacency applies to both men and women.  We look at numbers of women in leadership positions and we tell ourselves "we don't have any women who are ready to be promoted" instead of looking for opportunities to develop women so that they are ready.
4. Speak up! We are silent in meetings when off-hand or even derogatory or downright sexist remarks are made regarding women and our silence is an "acceptance" that propagates the behavior.  In other words we're condoning the behavior by not challenging it.  We don't need to challenge it in an accusatory way – but a simple, "Are you aware that your comments makes me uncomfortable?" or "I have a daughter (or sister, or wife, or niece) and I would hate to have someone at her office talk about her like that."
5. Address the "safety" of your environment. Every employer needs to seriously address the issue of whether they're creating the type of environment where women (or minorities or anyone who is different from us) feel truly safe to report inappropriate behavior.  We need to ensure those who do report don't face additional isolation or, even worse, any sort of retaliation.
6. Women need to support women. Unfortunately because the path to leadership for women in STEM careers is difficult, women sometimes even turn on one another instead of helping each other– behaving like a "maucho man" and becoming dismissive of emotions and women-focused programs/networks in a twisted attempt to prove their own worthiness. We need to recognize when this is happening and stop it immediately.
7. Consciously "create a space". We need to consciously "create a space" to attract and retain women – that means considering offering things like paid maternity leave, truly flexible schedules, clear career paths (not the good 'ol boy method).
8. Get out of the "generational" mindset. (This one I borrowed from my colleague, Brigette Thomas, who also attended the conference.) In a conversation with two undergraduate women from Penn State, I asked if they had any issues working with the older generations. They said that they actually had a worse time with men their own age who won't look them in the eye, talk to them, or include them. The "older generations" men actually treated them equally. This is not just a "generational" issue that will resolve itself over time.
9. Be Inclusive. Numbers aren't enough. Meaning it doesn't matter how many women (or minorities) you have on your team, it's whether you listen to what they have to say and include their opinions in how you move forward.  One presentation at SWE that highlighted this was about a program at North Dakota State University called "Allies & Advocates," where they specifically included men on their diversity team in order to educate them that yes, sexism still exists. Men don't believe that it happens because it doesn't happen to them. Once they understand the subtleties about where and how it does happen, they really become advocates to help promote a truly gender-neutral environment.
10. Continuously WORK toward solutions.  Changing a culture takes time and a lot of work, but the result of seeing increased profitability and innovation make the work worth it!
Our own CEO, Walt Vernon, has been transparent about our ongoing goal to be the most female-friendly engineer firm, period. Yes, it's quite the ambitious goal. But we enjoy a good challenge for a good cause. Towards this, we've benchmarked our quantitative and qualitative data to really understand our current conditions, and we've developed an active A3 Continuous Improvement group exploring experiments to test. More to come….
We welcome your input towards this ongoing conversation to learn from each other.
Sue Rossberg, Human Resources Manager