We missed last month's Women@Mazzetti numbers due to some technical issues. However, we are back with updated stats! With a few new females hired since July, the percentage of women increased slightly. Onboarding during COVID-19 is not the easiest, but it has been great to have them join our Mazzetti team!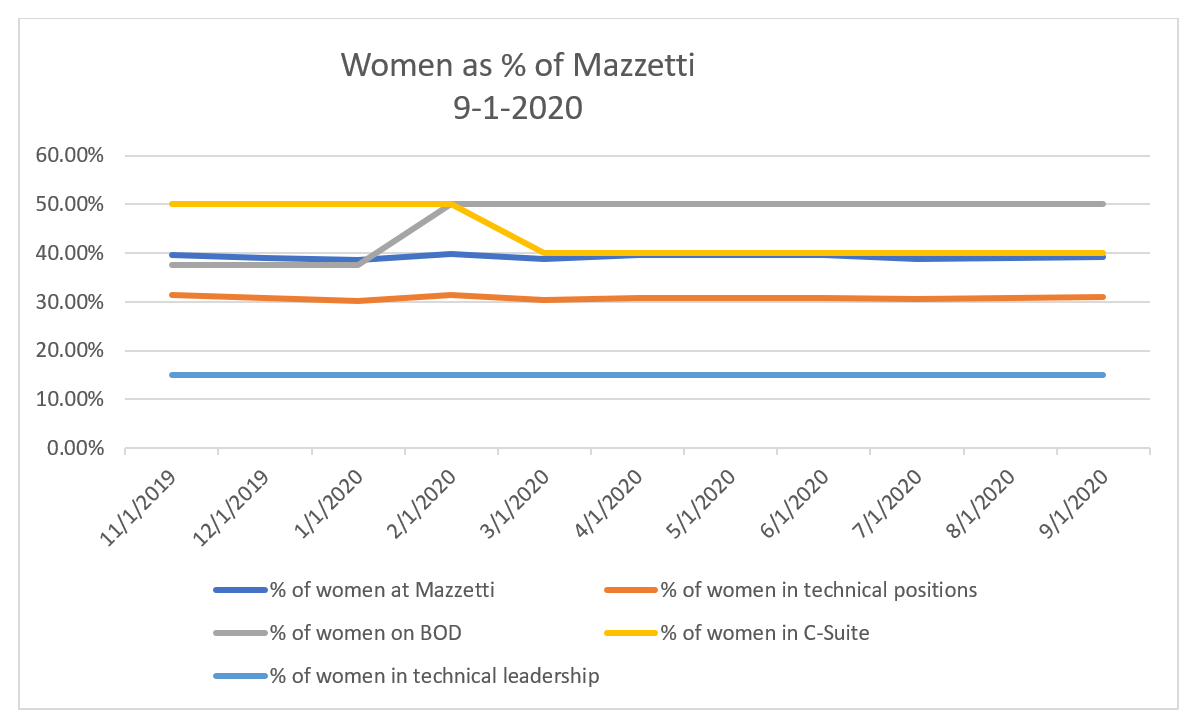 In August, Women@Mazzetti hosted an internal COVID-19 discussion to check on how Mazzetti-ites have been coping with the COVID-19 pandemic. We focused on three topics: how COVID-19 has affected gender equality, the stresses of parents working from home, and site visits during a pandemic. We referenced reports by McKinsey and United Nations to understand how the COVID-19 pandemic has been having a regressive affect on gender equality globally. In the United States alone, unemployment data reveal that women make up 54 percent of the overall job losses to date. This is greatly due to women-dominated jobs being impacted the most during the COVID-19 lockdowns, especially in wholesale and retail, food service, and arts/recreation/public administration industries. The aspect of working from home has offered some negative aspects for women, especially those with children. According to the UN, women on average spend 2.4 more hours per day on unpaid care and domestic work compared to men. Women have been feeling the stresses of work-life balance during this time, and flexibility from employers is key. It will be important for us to continue pushing gender equality efforts forward so that they do not revert during the pandemic.
Overall, we had some great discussions, and it seems like as a company we are doing well at supporting our fellow Mazzetti-ites. There were positive examples of team leaders being flexible, co-workers supporting one another by going on site visits for someone if they did not feel comfortable, teams having internal discussions on how to maintain good mental health, etc. We look forward to hosting more of these discussions internally (and hopefully externally!) to bring awareness to gender issues as well as to ensure we are all being supported!
W@M September Spotlight: Chiaowei Yu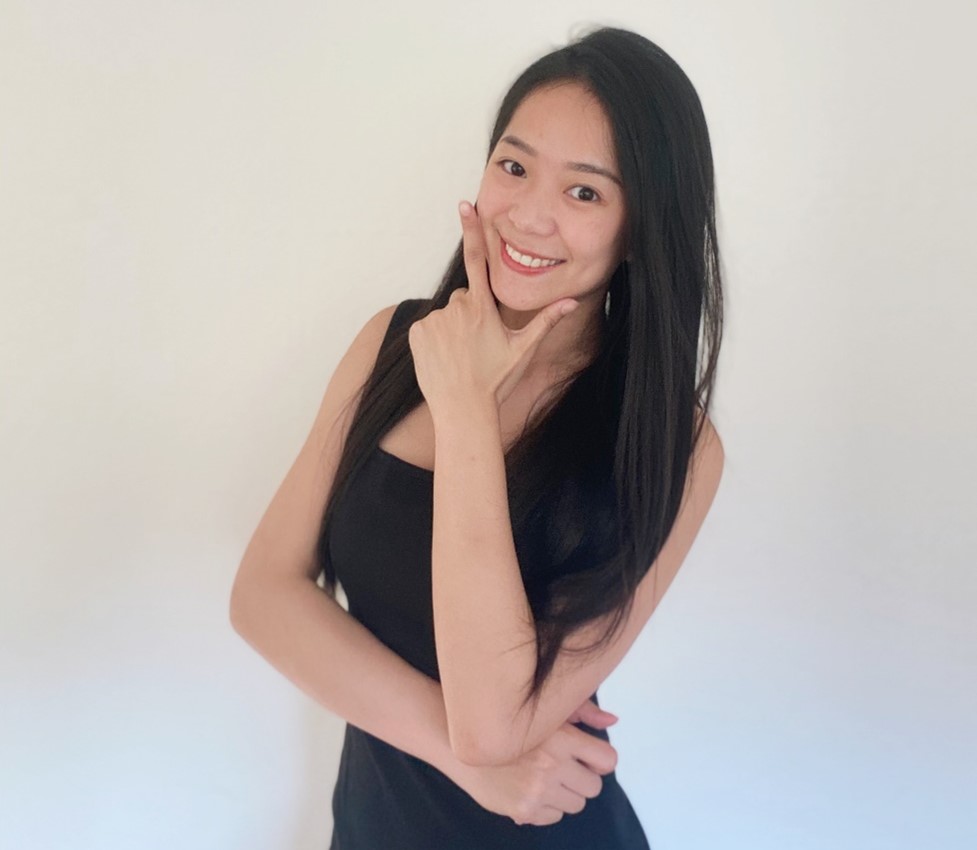 Chiaowei is the Director of the VDC (Virtual Design Construction) department at Mazzetti and based in our San Francisco office. With over 6 years of industry experience and a high level of expertise in building information modelling (BIM) software, Chiaowei is an indispensable figure at Mazzetti. After studying civil engineering in her home country of Taiwan, she traveled across the world to complete her Masters in Architecture Engineering Construction Management. At the start of her career, BIM was a new technology in the construction industry – therefore, Chiaowei was in a unique position where most companies did not have defined roles for BIM modelers/managers. With her complete education on BIM, numerous innovative projects from internships, and professor's guidance on industry experience, Chiaowei built her own BIM/VDC role within Mazzetti. Chiaowei has helped us utilize the advantages of BIM and improve the experience, workflow, and structure of BIM project delivery. After joining Mazzetti over 4 years ago, Chiaowei has built and continuously improved the BIM workflow and standards that engineers and designers use today – we are eternally grateful for her contribution!
When asking Chiaowei why she decided to come to the US to embark on her career, she mentioned a main difference between the Taiwanese and American work culture. In Taiwan, there is a hierarchy at work based on years of experience, and it is not easy for others to speak up against decisions being made from people higher up. Understanding her strong personality of speaking up for herself and others, Chiaowei saw how young people in the US were more willing to speak up and decided to try to start a career here instead. Chiaowei is the first immigrant employee Mazzetti helped sponsor to receive her US Permanent Resident Card. The immigration process in USA is not easy, with only a few ways to become legal in the country. First, one can invest $1 million in American business. Second, one can be a specialist in their field and prove the country needs one's expertise. Third, (and probably the most common way) one can receive an education or a job in the United States and apply for residency through their career. This process can range from 2 to 10 years, depending on from the home country, and requires the help of companies and immigration lawyers. Chiaowei followed the third option and noted the pressures of working hard, while also making sure she is providing top-notch value to the company in appreciation of their sponsorship. Despite the stress and difficulties, Chiaowei is thankful to now be a permanent resident of USA and is grateful to the people and mentors who have helped her grow her career and stay in the States.
As a female engineer in a predominantly male industry and from a foreign country, Chiaowei noticed that having her voice heard during meetings was not an easy task. When she first started working, she noticed some cultural barriers, especially with understanding different American accents and politically correct language. She mentioned that her co-workers were always nice and supportive to go out of their way and teach her. One aspect from Taiwanese culture that she believes has been useful in her career is directness and straightforwardness – this helps push and move things forward as well as initiate candid conversations. She also learned ways to gain attention during meetings by lowering the tone of her voice, making clear statements, and being concise and sharp when necessary. Since starting in this industry, Chiaowei has overcome quite a few obstacles and learned how to be patient, understand the differences among people, and view things from different perspectives. Her advice for young women entering the industry is to realize it is okay to not know all the answers and to ask questions, stay away from comparisons and build your career path your own way, find other women to connect with, and learn to accept criticism.
When Chiaowei was planning her career path, she did not expect it to be what it is today. Her passion for construction and technology led her to the BIM profession, however she initially envisioned transitioning to different companies every 3 years or so to gain experience. After joining Mazzetti, she found more possibilities and potential to grow within the company and through the "non-stop bittersweet challenges" she redeveloped the company's VDC department and BIM structure. As Mazzetti continues to grow, Chiaowei envisions building a fully integrated, single strong resource VDC support group to push BIM resources to all offices seamlessly. We cannot thank her enough for her hard work, leadership, and vision for Mazzetti's VDC team!