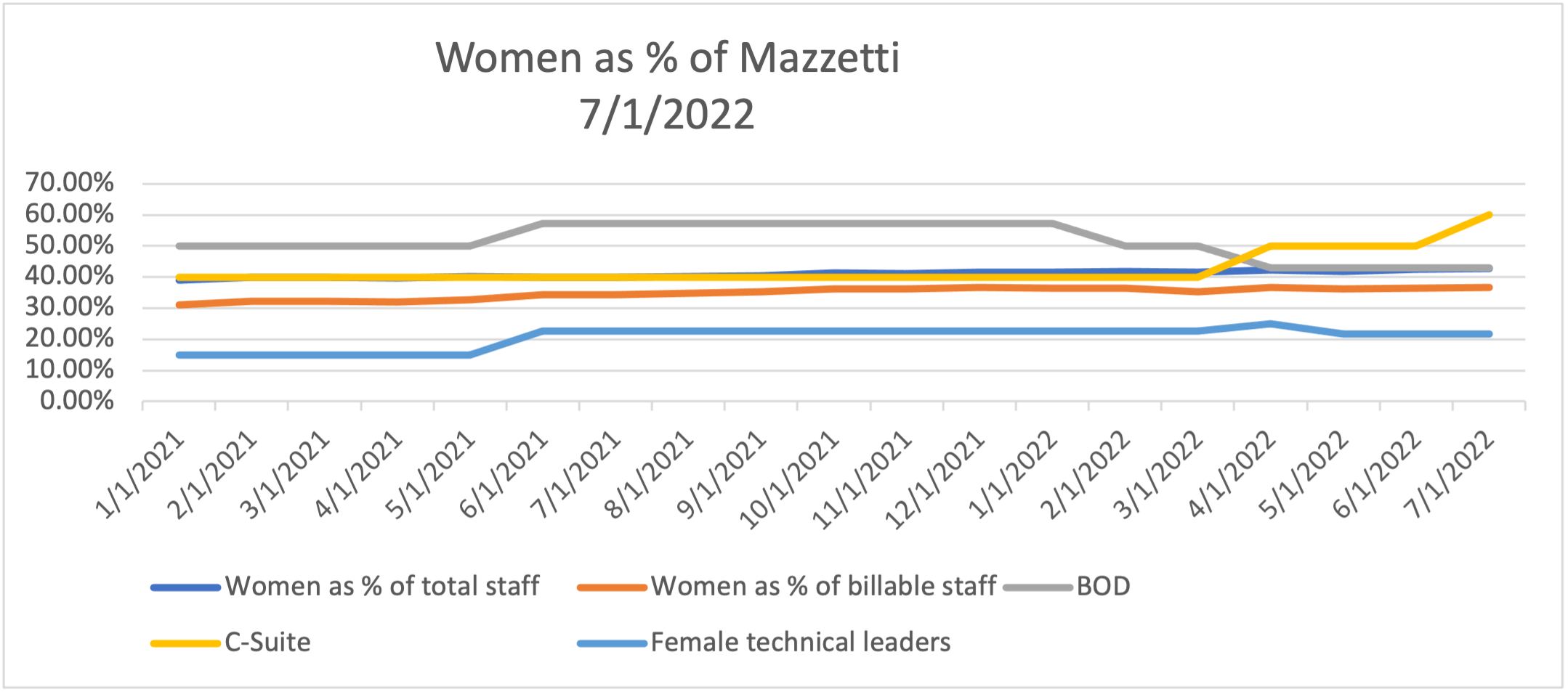 We are halfway through the year, and our Women@Mazzetti numbers are on the rise! With many new projects on the horizon, Mazzetti has a surge of new hires onboarding as we increase our teams to meet demand. We are also lucky to have several interns joining us this summer – stay tuned for next month's spotlight to hear more about the incredible women we have interning across the company!
In July, the Women@Mazzetti committee used our monthly meeting as a discussion to determine initiatives in which the W@M committee can continue to support the women+ within the company. Some of the ideas included hosting more discussions and happy hours for women+ in the company to connect and better support each other, ensuring that current and future offices have mother's rooms for anyone breastfeeding, and continuing with our monthly spotlights.. In that spirit, please enjoy this month's spotlight on Asya Rayter!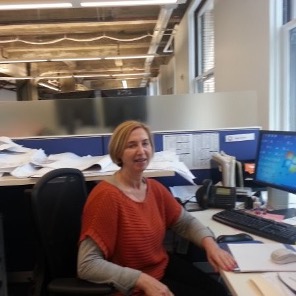 Women@Mazzetti August Spotlight: Asya Rayter
Asya Rayter is a Senior Mechanical Designer in Mazzetti's San Francisco office and one of Mazzetti's longest-tenured employees (26 years). She has helped design many of the San Francisco office's significant projects including Lucille Packard Children's Hospital at Stanford, San Francisco Chinese Hospital, and various Kaiser projects. With retirement in her near future, we spoke to Asya about her career and what Mazzetti means to her.
Asya grew up in the republic of Ukraine in the USSR (Ukraine became independent in 1991 during the fall of the Soviet Union). Her father worked in construction and her brother became a structural engineer, giving Asya early exposure to the A/E/C industry. Asya started working in the design industry as a drafter and designer in 1970, taking classes to earn her degree in HVAC. Architecture and HVAC industries were popular in Ukraine and Russia and many women worked in engineering. Many of the projects she worked on in Ukraine were residential or administrative buildings that only had heating and exhaust systems and some minor ventilation.
In 1987, Asya and her husband immigrated to the United States. Moving and adjusting to a new culture was a big challenge, especially due to the language barrier but being young and adaptable made things easier. At the first company she joined in 1988, she met several coworkers including Walt Vernon, John Pappas, and Albert Ostroy who she would go on to work with for the rest of her career! In 1996, after a round of company layoffs, Asya, Walt, John, and Albert all moved to a firm called Mazzetti (and the rest, they say, is history…). Many of these coworkers have served as mentors to Asya over the years because of their expertise in designing hospitals and labs, projects she had never designed before moving to the United States. She's also learned from coworkers with extensive construction and jobsite experience that there are many factors at play on a construction site that you must be aware of when you are designing mechanical systems. Design, Asya says, is her favorite part of her job. Looking at a ductwork clash and trying to figure out how to avoid it is like solving a puzzle.
Asya doesn't feel that she has ever experienced discrimination in the industry in all the time she has been working. She is happy to see more girls encouraged to pursue engineering. Her advice for young women entering the work force is to continue to study and take classes during your career to educate and challenge yourself with new topics. She also emphasizes that it's important to enjoy the work that you do. Since starting remote work, Asya feels that her coworkers are better about not overloading themselves and asking for help when needed. She still prefers work in an office and avoid the distractions of working at home, but overall, she appreciates the flexibility that remote working gives everyone.
Asya will be retiring at the end of this year after 26 years at Mazzetti. In retirement, she is looking forward to spending more time with her grandson and traveling more; however, she knows that she will miss the feeling of waking up in the morning knowing she has a purpose and that someone at work needs her help. She's the type of person that likes to feel busy, so learning to slow down and take life a bit easier will be an adjustment.
Asya believes that Mazzetti has a good reputation in our competitive industry and that we continue to bring in good people to bolster this reputation. As one of the long-standing members of the San Francisco team, we know that Asya is part of that good reputation, and we will miss her when she leaves us at the end of the year. Thanks for all you do, Asya!