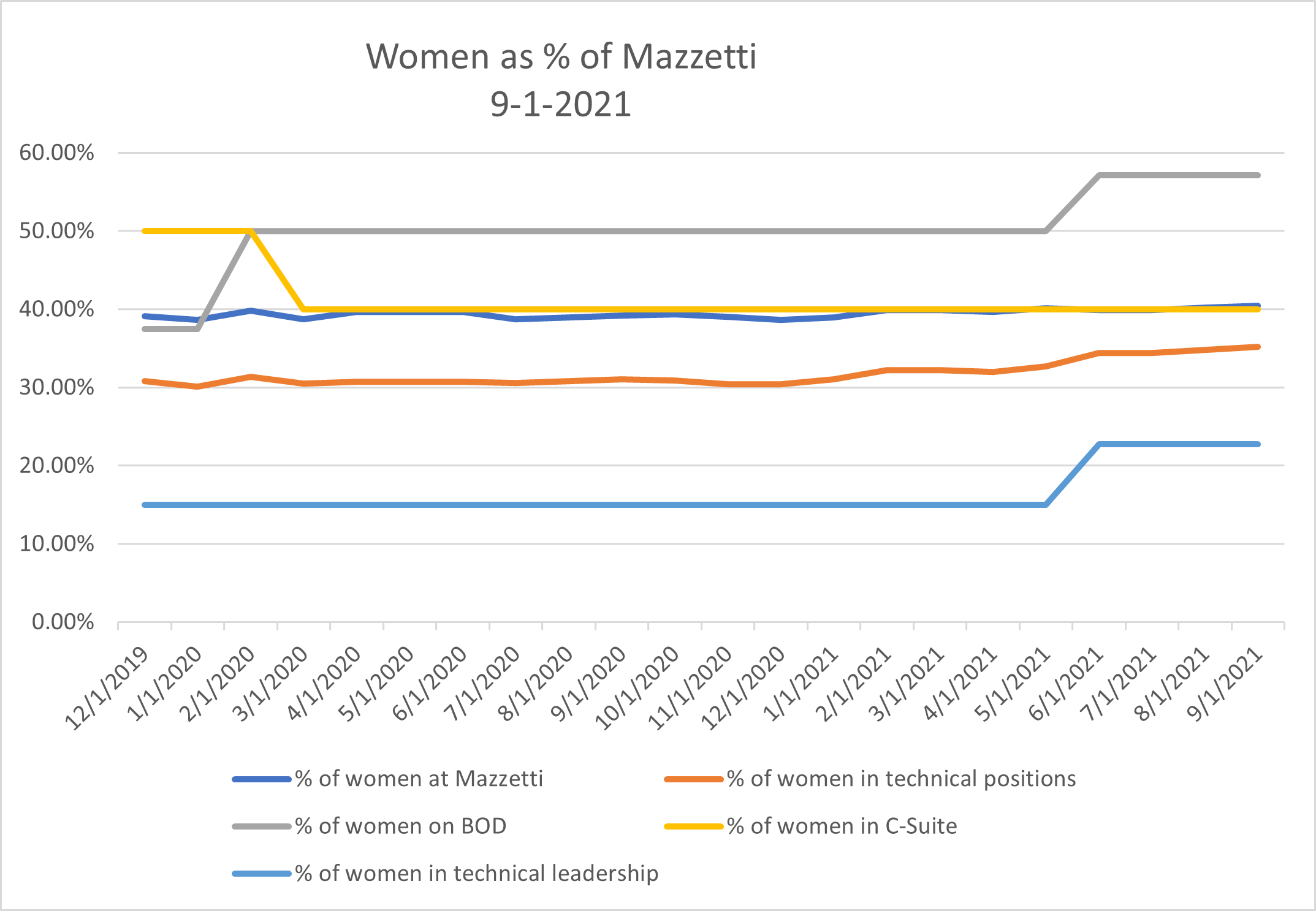 Our Women@Mazzetti numbers remain steady as we head into fall! Last week, the W@M and DEIJ committees collaborated to bring in Ellie Krug for "Gray Area Thinking" training, helping us connect and familiarize more as humans! Ellie, a transgender woman, accomplished lawyer, and public speaker from Minneapolis, illustrated how people have a tendency to group and label other people who are considered different or "other". After establishing the many different ways that we categorize other people, we focused on the specific ways that we also group and label ourselves (and how we can be our own worst critics!). By the end of the presentation, we were enlightened by Ellie's toolset for "Gray Area Thinking", including being aware of human vulnerability and showing more compassion for ourselves and others. Through several interactive scenarios, Ellie demonstrated to our group how mentorship, sponsorship, and support are pivotal to creating an inclusive workplace. We are so grateful to Ellie for joining us and sharing her impactful presentation. We look forward to hosting similar events in the future to continue promoting diversity and inclusion within Mazzetti!
Women@Mazzetti Spotlight: Amber McClintock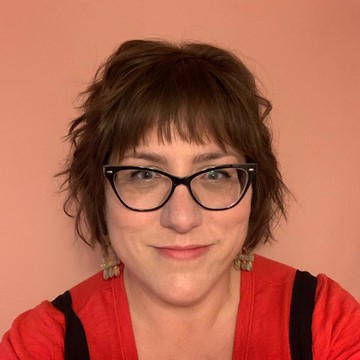 For September's Women @ Mazzetti spotlight, we flipped the script on Amber McClintock, Corporate Marketing & Communications Manager. You see, usually Amber is making magic, penning the stories and experiences to tell the Mazzetti story. Hannah Mobarekeh, West Coast Business Development Manager, was able to take a few moments to make the writer the subject in this month's feature.
With eighteen years of Marketing and Communications expertise under her belt, Amber is no stranger to crafting companies' stories. An avid writer, she graduated college with a journalism degree and quickly set her eyes on a career in marketing to help businesses communicate more effectively, both internally and externally. In her first role working at a civil engineering firm, Amber recalls responding to government sector proposals, which if you know the industry, you know these requests can be quite meticulous. She fastidiously would pore over proposals, ensuring nothing was left that could be misconstrued or disqualify the response; to this day, Amber credits her attention to detail to her early days working on Department of Transportation proposals, which instilled a laser focus during the editing process. From this role, Amber worked at a variety of companies, spanning the software/IT sector and banking/finance, which finally, led her to Mazzetti. Throughout these roles, her writing style has been inevitably molded by experience, from practicing the art of conciseness at the Civil Engineering firm, to technical writing working in software, to working hand-in-hand with compliance on legal responses at an investment firm. Working at Mazzetti for the past few years, Amber has evolved her voice here, taking a hybrid approach that is part storytelling, part technical, and always concise.
From early in her career, Amber feels lucky that her path has been paved with strong female mentors, including her first mentor, the Marketing Director in a two-woman department. "Being a woman (in a predominantly male company) within a small Marketing department, I would get asked to do tasks that are outside of my scope of work or more administrative in nature. In the beginning, I did these tasks being new to the industry. My first mentor saw this and taught me to set boundaries, clarifying my role within the Marketing department, and empowered me to be intentional with my time, saying 'no' when warranted." Beyond boundaries, Amber has learned to adapt to tight deadlines and prioritize tasks and to delegate when tasks are not playing to her strengths.
Something that is unique working in a Marketing niche in A/E/C is that while many firms trend male dominated, Amber has found Marketing Departments to be creative powerhouses, often comprised by women. "I have always either worked as a one-woman Marketing Department or as a part of a small, mostly female team. My experience as a woman has been an asset throughout my career, and my strong female mentors have only reinforced this."
For all women contemplating a career in A/E/C or any male dominated industry for that matter, she advise to be assertive and always know your worth. "Educate others in your firm on your skills and expertise and let them know how your time should be spent. Don't be afraid to push back and play to your strengths."
And one of Amber's obvious strengths? Immense creativity! Beyond telling Mazzetti's brand story and authoring content for proposals and PR pieces, Amber miraculously makes time for a side hobby known as the Little Daydream Company. You see, other than writing in her spare time, Amber is a huge crafter! She has made things with her hands for decades; she fondly remembers making baby headbands for her daughter and different toys as she grew. One craft she's always gravitated toward was jewelry-making. She would often make necklaces, earrings, and other pieces, gifting them to family and friends. When the pandemic began, being crafty at home, Amber discovered a new passion for molding clay. "I often wake up in the middle of the night with ideas for new things I want to try to make, so I thought why not share these crafts with the world?" Sometimes Amber paints her clay-made jewelry, other times she finds unique finishes for the products.
We encourage Amber to keep dreaming big, and to use her voice to mentor the next generation of marketers on how to grow in their careers with such grace. Mazzetti is lucky to have Amber's writing skills, energy, and creativity, continuing to craft Mazzetti's story.