Mazzetti is an employee-owned Benefit Corporation (and proud of it). 
The Benefit Corporation is, in essence, a hybrid between a not-for-profit company and a for profit company. That is, a Benefit Corporation such as Mazzetti carries both responsibilities — like a not-for-profit, we must provide a specific benefit to society. Like a for-profit, we also pay taxes.  
We are often reminded by our people of this importance, and the meaning it provides for the people who work here and our clients. Any business and/or HR publication tells us that more people are seeking more than just a paycheck. People strive to do meaningful work, something that matters. We continue to prioritize both as an employee-owned, benefit corporation. 
As a Benefit Corporation, we are accountable to driving a public benefit to better society and our physical environment. As a Benefit Corporation, our public benefit should equate to our overall mission. At the end of last year, we resolved this disconnect. Mazzetti's mission/benefit is, officially, BENDING THE CLIMATE CURVE™ 
In February 2022, the professional society representing Professional Engineers, NSPE, adopted a position establishing Climate Change as one of preeminent importance to our profession. "Climate change is real – the impacts are serious, and they are accelerating. There is an urgent imperative for the engineering community to take informed and intentional actions now to both reduce greenhouse gas emissions and adapt to the impacts of a changing climate. It is our duty and purpose to contribute our skills and knowledge of human-centered technologies and of the natural world to lead humanity out of the climate crisis with a focus on sustainable, resilient, equitable, and innovative approaches."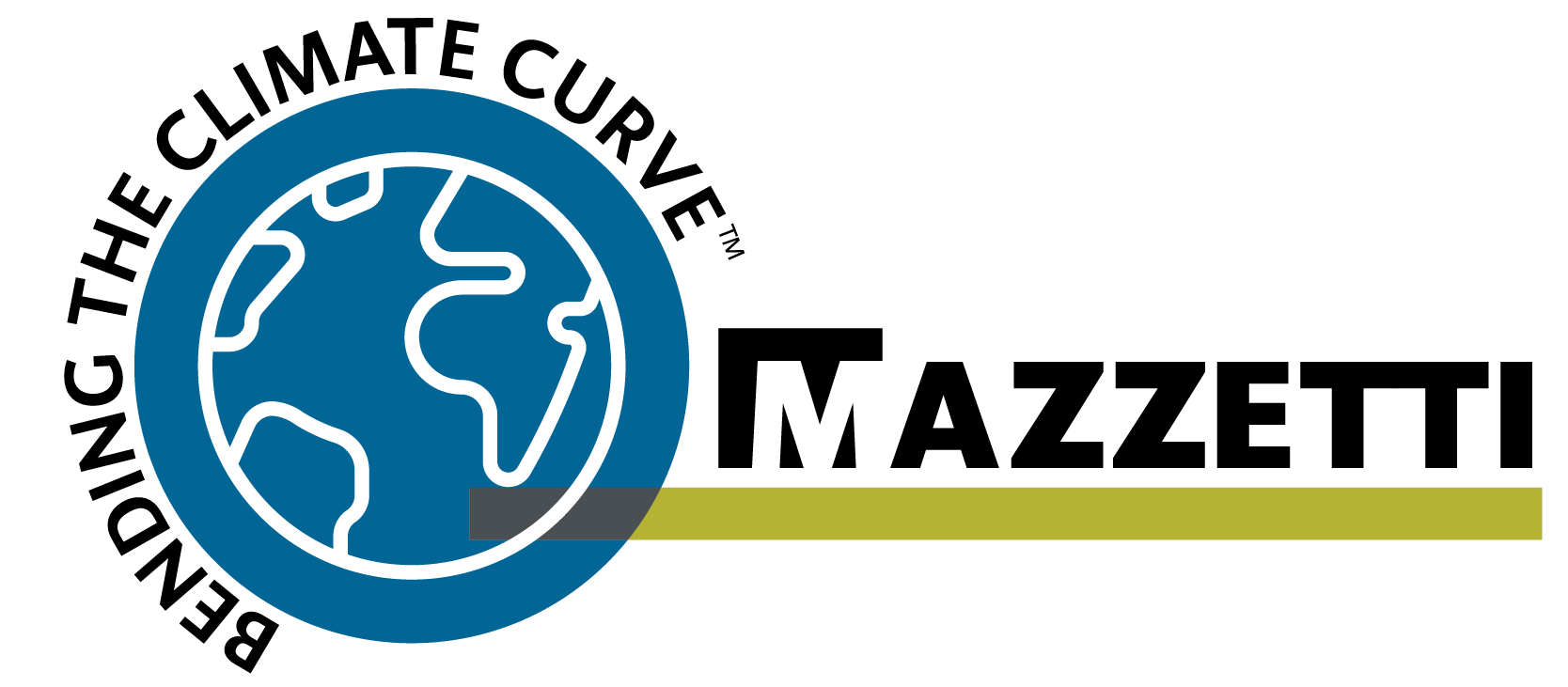 Scientists and policymakers have long agreed that global warming beyond 2° C above the pre-industrial average would pose large and escalating risks to human life as we know it on Earth, and governments have used that number as an organizing principle. 
Source (above): https://climate.mit.edu/ask-mit/why-did-ipcc-choose-2deg-c-goal-limiting-global-warming
Hence why, we know we must strive to bend the climate curve™.  
First, we know we must "walk the talk." Mazzetti has been carbon neutral – inventorying our own greenhouse gas (GHG) emissions (scopes 1 & 2) and offsetting for over a decade. Last April, we signed onto the HHS Climate Pledge – a voluntary commitment to climate resilience and emissions reduction that includes cutting greenhouse gas emissions by 50 percent by 2030 and achieving net zero emissions by 2050. 
In 2023, we are committing to: 
Maintain our scope 1 and 2 emissions at zero; start tackling scope 3.

 

Design 10% better than lighting power density code.

 

"No burn" designing (i.e. We will do everything in our power to not contribute to more CO₂ in the atmosphere.)

 

Benchmark the energy consumption of diagnostic medical equipment to better inform our clients and the industry.

 
We should clarify — we are committed to meeting our clients where they are today. We are committed to being a trusted partner and advisor to create healthier, enduring environments.  
As a thank you, many of our clients and partners are receiving a climate impact gift – direct CO₂ capture offsets from Climeworks. We know this is a journey, and we know we cannot do it alone.  
THE PERENNIAL QUESTION we hear, once an organization commits to decarbonization, "How do we pay for it?"  
To address this question and related questions, we have organized industry-recognized financing expertise and advisory solutions. Discover more here.