Energy Peace of Mind
Chapter 1: Starts with Energy Modeling
We take energy seriously. Towards this, we have participated in the AIA's 2030 Commitment since 2012, using its framework to track the progress of our projects.  In order to inform our designs, we start with energy modeling–all projects over 10,000sf and, for which, the energy use will be significantly impacted (>15%). We see a large part of our role is to provide you, our clients, peace of mind. This implies both trust and appropriate outcomes. What better design validation than measuring actual performance?!
Did you know, that if your facility runs at a 5% profit margin, every dollar in energy cost you save is equal to grossing (approx.) $20 of additional revenue? Energy is a financial matter.
"Energy is no longer a facilities issue, it's a financial issue."
– Anonymous Treasurer, Large CA Health System
Mazzetti engineers uphold a responsibility to design smart, environmentally responsible building systems with a keen focus on energy efficiency. We "protect" this design aspect throughout the life of the project and those who have worked with us, can attest.
Swedish Issaquah (Issaquah, WA)
The significantly aggressive energy target, coupled with a tight timeline created both a challenge and even bigger opportunity. Mazzetti (at the time CDi Engineers) responded by making early decisions, conducting energy modeling, using VAV and Heat Recovery Chillers, integrating design and construction, and expediting equipment procurement. We delivered using Integrated Project Delivery Method (IPD). 
"Swedish Issaquah is the most energy-efficient hospital in the United States."
– Robin Guenther, Principal (Perkins+Will)
"We are especially pleased that our aggressive energy-savings goals were accomplished."
– Kevin Brown, CEO (Swedish Health Services)
Discover more about the project here.
Peace Health Peace Island Medical Center & Critical Access Hospital (Friday Harbor, WA)
Working closely with Mahlum Architects, Mazzetti provided Mechanical and Plumbing design for this award-winning project. Using the ambitious Living Building Challenge 2.0 roadmap, energy efficiency was a prime component. Peace Island Medical Center (PIMC) is achieving an average Energy Use Intensity (EUI) of 87.7 kBtu/ft2/yr (276.7 kWh/m2/ yr).
Discover more about the project here.
Per the image below, we have predicted our projects will perform on average 36% better than the baseline, across our portfolio.
Our Inpatient Hospitals EUI has improved from 204 to 159 kBtu/sf/yr.
Our Medical Office Buildings EUI has improved from 64 to 55 kBtu/sf/yr.
In actual energy use, in the last 4 years we have seen our hospital projects improve by a predicted average of 45 kBtu/sf/yr, and our MOB projects by 9 kBtu/sf/yr.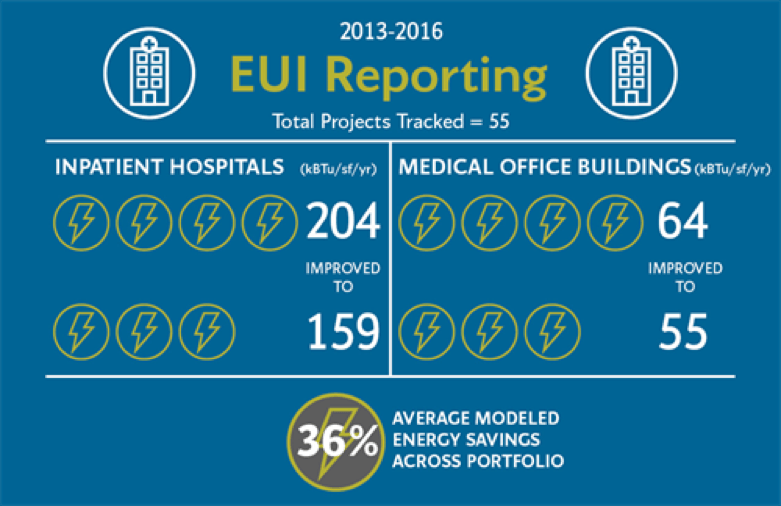 And, most importantly, we deliver. If modeling is step 1, measuring is step 2. We're excited to let our projects speak for themselves. In upcoming "Energy Peace of Mind" chapters, we'll be featuring various projects for which we have modeled and measured energy data. This is about outcomes, not activity.
Feel free to jump ahead and learn more about RCx benefits through the eyes of a client.