Healthcare systems are among the largest consumers of water in a community. According to the EPA Energy Start Portfolio Manager, hospitals rank third among facility water use intensity (WUI), just behind senior care facilities and hotels. The median hospital uses 315 gallons per bed per day. Let's think about this…in the most recent AHA survey (2013) the total number of staffed hospital beds registered in the U.S. is 914,513. If you do the math, that's approximately 288M/day; 8.6B/mo., 103B/yr.
Increasing usage efficiency is becoming more of a priority not only from a limited resource perspective but also from a utility-cost-saving perspective.
[Average Hospital Water Usage Here]
Inspecting leaks and ensuring valves close properly are two more obvious measures that can create a significant impact. Check out more tips for developing your internal water efficiency plan with the AHA's Sustainability Roadmap for Hospitals.
What if your facility could be credited for water reuse? It's happening. Water utilities for healthcare facilities typically charge for the amount of water that enters and departs to the sewer after being used. However, the water entering the sewer, by default, is not metered. The Utility assumes an equal amount of water enters and exits. Often this is not the case–water is used for landscaping or to supplement a cooling tower or other equipment. These are missed opportunities when it comes to utility saving. Do you currently use meters to facilitate reporting back to the utility for these credits?
What else can we do, within our control?
Whether you have a formal water management plan, you're just in the early stages, or anywhere in between, the following are questions to help guide the conversation: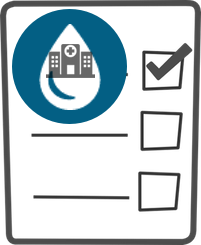 1. How does the water flow through your building?
2. Do you have high-risk patients?
3. Do you disinfect incoming water?
4. Do you have a plan for source water failure?
5. Do you have any water treatment systems (i.e. Boiler)?
6. Do you have a plan for cooling towers?
7. Do you have a plan for water features, ornamental fountains, whirlpools or treatment spas?
8. Do you have a maintenance repair plan associated with the water piping systems?
9. Do you have a plan associated with the medical equipment?
10. Do you have a plan for monitoring water temperatures?
11. Do you have a plan to identify dead legs?
12. Do you have system filtration systems?
13. Do you have design / construction standards associated with water piping systems?
14. Do you have a plan for verification of pipe noted for removal?
15. Do you have a program to annually review all of your water plans ?
Looking for more ideas? Contact me to chat at hplatt@mazzetti.com