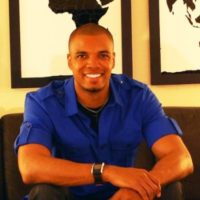 We caught up with Durell Coleman (left). Durell is the Founder and CEO of of DC Design (a social impact design firm) and the facilitator for the upcoming clinicians + designers  *workshop –"Reimagining the ED". (More details on the workshop here.) He shares his excitement for this 1st workshop…
A big part of what's important for solving any problem is ensuring the right people are in the room when it's being discussed. The "Reimagining the ED" workshop at the Healthcare Facilities Symposium is an opportunity to bring together the right people. Physicians, nurses, patient representatives, and architects will have the opportunity to learn from each other and collaboratively redesign the way we address key issues in the ED.

How do we ensure access to the right supplies, at the right time, given the layout of the department?

How do we accommodate the diverse needs of behavioral health patients, geriatric patients, and the rest of the public in a way that renders the best care and experience to all parties involved?

These are the questions clinicians are excited to explore (and hopefully answer!) with architects, during the workshop. Interdisciplinary teams will put forth new design recommendations that will culminate in an FGI-created white paper (with the potential to influence the FGI guidelines). The recommendations from this workshop will play a key role in shaping the future of emergency medicine in the US and around the world for years to come. 
If you are already registered for the Healthcare Facilities Symposium and Expo and would like to add the FGI/ACEP Workshop to your registration please complete this form and email it to jenabeth@jdevents.com. Otherwise, you can REGISTER HERE.