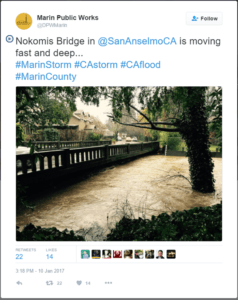 As I sat through the recent storm that swept through Northern California, my time without electricity really got me thinking about what it means to be without power. More so, as I am an electrical engineer who spends a good deal of my time helping clients prepare their facilities for these types of challenges.
The Conundrum?  
As our buildings, including our homes are getting "smarter", our ability to perform daily activities is more than ever dependent on the availability of power. Any loss of power can bring an inconvenience, or in an essential facility or hospital this can prove life threatening. In addition to our reliance on power to perform our daily tasks, we are also facing increasing weather-related threats due to climate change.
We want smart buildings even in a power outage. What can we do about this?
The standard solution in the built environment includes the emergency power provided by an uninterruptible power supply (UPS), or an emergency generator — or a combination of both. Both systems utilize proven technologies, are commercially available, and are well-documented in the building codes.
Standard Power Sources
The two standard sources of emergency power are battery via an inverter and diesel (or less common gas) powered generators. These are tried and true technologies and will be with us for the foreseeable future. That being said each has their respective challenges…
Pros:
Supports large emergency loads for prolonged periods of time, limited only by the fuel supply
Readily available and well documented by the building codes
Cons:
Requires a significant amount of space in a building
Extensive infrastructure is required to support the combustion. If inside a building, this includes large amounts of cooling and combustion air, attenuation to mitigate the noise/vibration and exhaust filtration. This extensive infrastructure and the associated capital and operational cost is only realized when there is a power outage; otherwise, the asset is not being utilized.
In static state, constantly requires power to keep generator at optimal temperature to start
Battery supported UPS are typically used in isolation for small short-term power outages or in combination with a diesel powered generators.
Pros:
Provides immediate continuity of power and power conditioning
Readily available
Scalable in isolation
Well documented by the building codes
Requires minimal infrastructure (compared to that needed for a diesel powered generator)
Cons:
Requires routine maintenance
Uses power in a static state
Heavy if in large scale
They are temperature sensitive
Unless used for power conditioning, the capital and operational cost is only realized when there is a power outage; otherwise, the asset is not being utilized.
We want smart buildings even in a power outage, so how can we do this smarter?
While there will always be a need for the traditional power solutions, we are fortunate that there are a number of evolving technologies and solutions that will be able to keep our buildings smart, safe, and powered while addressing some of the challenges that are associated with the standards solutions. We are delivering several of these alternative solutions for our clients now.
MicroGrids
Firstly, there are many definitions for a Microgrid. A formal definition from the U.S. Department of Energy Microgrid Exchange Group[3] states: A microgrid is a group of interconnected loads and distributed energy resources (DERs) within clearly defined electrical boundaries that acts as a single controllable entity with respect to the grid. A microgrid can connect and disconnect from the grid to enable it to operate in both grid-connected or island-mode.
A microgrid typically consists of energy storage (usually batteries coupled with an inverter), a power source (ideally some kind of renewable to supplement the utility power), and a control system to manage the charge and discharge cycle. Thus, the ability to manage the charge and discharge allows for better utilization of renewable power, as the generation cycle may not match the load cycle. Microgrids also have the ability to operate independently of the grid, in an "island mode". It is the island mode that makes them suitable to help support emergency loads, if properly configured.
The other advantage of applying a microgrid for an emergency power source, is the continuous utilization. Unlike the traditional sources, this asset is constantly being utilized, not just when there is a power outage, as with a standby generator or UPS. In the event of power loss, it can then provide (or supplement) instantaneous power, acting like a large uninterruptible power supply.
While there are code and listing challenges, microgrids provide a good solution to the emergency supply challenge.
At Mazzetti we are already using a microgrid to form part of the emergency system of a California Hospital and hope to integrate more of the technologies into upcoming projects into 2017. This project is being delivered in close collaboration with the State of California, who are actively supporting this technology as part of the State's aggressive climate change initiatives.
Fuel Cells
Fuel cells produce power by converting typically natural gas into electrical energy.
Pros:
Production of cleaner energy and a minimized carbon footprint overall
On-site generation to provide distributed power for reliability
Limited infrastructure needs to be in place to host fuel cells
As with microgrids, this is not brand new. In 2011, Mazzetti partnered with Perkins+Will to collaborate on an innovative hospital design for Kaiser's Small Hospital Big Idea Competition. Kaiser targeted a "near-zero impact on the environment." A key element of our design was the combination of energy systems, including a set of fuel cells using waste gas from a landfill. While the hospital design was one of two award winners in the competition, Kaiser never proceeded with the design and construction of this hospital due to code compliance issues and funding.
Alternative Energy Challenges
Thus, with code issues and other inherent challenges, exclusively using alternate power generation methods, including fuel cells, remains difficult. Like other technologies, there are caveats that NFPA 99 and other guidelines address. Mazzetti CEO Walt Vernon recently wrote about using fuel cells for healthcare emergency power and the implications which can be found here.
So how do we get to cleaner, uninterrupted energy in smart facilities?
With increasing demand for reliable power to perform even the basic functions in the built environment, the need to comply with evolving codes, and the compounding pressure from climate change, the solution is a work-in-progress, but one we must not shy away from.
Code change/modernization is one answer that will lead to the implementation of fuel cells and microgrids on a wider basis. In order to push for code change, the AEC community at large, including established critical-facility clients, will have to band together and work toward this greater cause. Mazzetti has historically taken this approach and continues to push the envelope of regulatory confines to design facilities that will stay relevant into the future and preserve our future. (See another example of this here.)
In order to create these smarter buildings, to service the future, we have to be smarter. We must have these conversations. We must experiment (reasonably) and challenge the status quo. And we must be consciously seeking to adapt to the inevitable changes ahead.