(Pssst… Facility Managers, feel free to forward this post to your own executive leadership to help probe conversations. Its ultimate intent is to help you do your job better, which includes, gaining executive buy-in and resources.)
As a member of the executive leadership team, how would you react if someone presented you with a proposal that enhanced the patient experience, improved the satisfaction of both the medical and non-medical staff, had a reasonable return on investment, and was sensitive to the community and environment. Likely the responses would span the spectrum between "not in this lifetime" to "we are well on our way". Addressing the ENERGY HEALTH of your facilities can help your organization achieve all of the above.
What is ENERGY HEALTH?
Just as we all should monitor our own numbers – blood pressure, cholesterol level, a1C – we should likewise be monitoring our facilities numbers – cost of utilities, kBTU usage, consumption, EUI – to name just a few. Your facilities need your full attention. As the world grapples with potential catastrophic consequences of global warming, while US healthcare facilities have an almost $9 billion spend on energy, regulatory requirements for performance improvement are inevitable. Just as hypertension can lead to stroke and permanent damage, ignoring our infrastructure and energy habits can lead to serious consequences such as further erosion of already razor thin margins, poor satisfaction scores, and competitive disadvantage in attracting patients and staff.
The following are some core components of successful "Energy Health" programs.
1. Written Plan: Regardless of where you start, start. There is still an amazing amount of low hanging fruit that provides a high return on investment with minimal cost, while improving staff and patient comfort. Some examples include:
Occupancy-based lighting control
Conversion to LED lighting
Exterior lighting photocell/scheduling
Reducing simultaneous heating and cooling
Reducing airflow based on ASHRAE 170
Operating Room setbacks
Pressure and temperature optimization for the air and water side
Patient room occupied/unoccupied control
Review operating schedules for areas that are not 24 hour operation
2. Designated Capital: Annually commit a certain percentage of the capital budget to energy projects that achieve your established IRR.
3. Monitor, Measure and Verify: This has been done in the patient care arena for decades. It is no different here. Create a dashboard that allows for visualization of progress to goals and can ensure the gains are sustained. Tool and resources to accomplish this are provided free from ASHE's Energy to Care Program.
4. Energy Champion: Identify someone to drive success. It doesn't necessarily need to be a new position but may be a shuffling of responsibilities for a collective group.
5. Encourage Innovation: Allow staff to test theories or ideas and be willing to have some failure.
6. Celebrate Success: Organizations have used awards, other recognition, incentives or any combination of the three. Whether you achieve external recognition such as Energy STAR, Partner of the Year, Energy to Care, or an internal award program, make it the big deal it is.
Achieving your ultimate energy goals will require a diversified strategy. No one aspect alone can get you there. There are a plethora of great ideas and, often times, available credits and off-sets.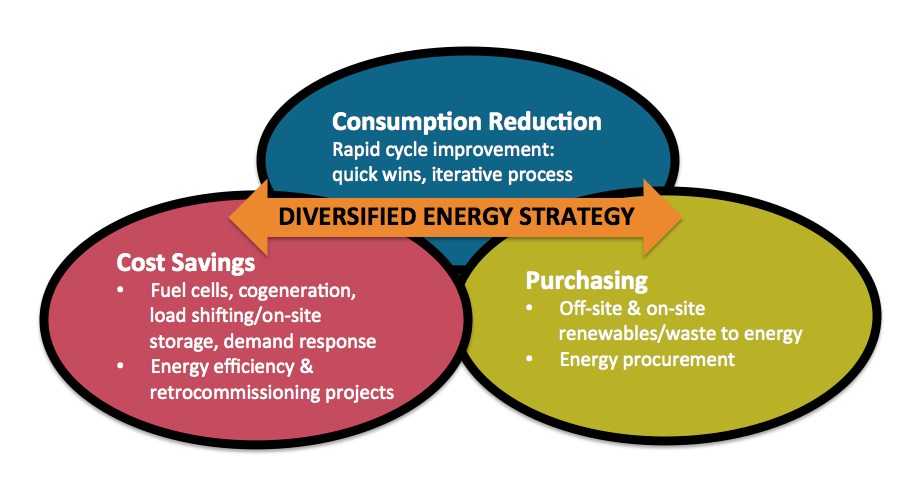 Start with your staff. They are a wealth of information. Let them fuel on each other's interest and ideas. Facility Director/Managers, in particular, can be invaluable on this journey. And as we all well know in the healthcare industry, education is like location in real estate.