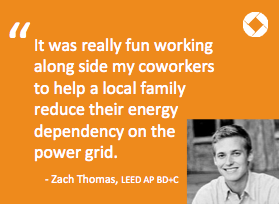 In June, I first heard of GRID Alternatives in an email from Walt, our CEO, asking me to help him set up a relationship with this nonprofit group. Little did I know, that one email would serve as an entry of opportunities for not only Mazzetti, but also for me, to help better someone's environment….In this case, a family's home.

GRID Alternatives is a nonprofit organization that brings the benefits of solar technology to communities that would not otherwise have access, providing needed savings for families, preparing workers for jobs in the fast-growing solar industry, and helping clean our environment.
In our newly formed relationship with GRID, we gain a platform to multiply our efforts to create better environments three fold.
We benefit our local communities by physically installing solar photovoltaic systems on families' homes.
We take the skills and hands-on training from GRID to our nonprofit work abroad.
We use this hands-on work to better inform design decisions on behalf of our clients.
Our First Mission
This last weekend, about ten Mazzettites, devoted a day in their weekend (some more) to the first build opportunity with GRID. We set out to install a PV solar system on the roof of a low income family living in San Francisco's Bayview district.
As a mechanical engineer with limited knowledge on solar PV systems, I was able to learn some of the basics of solar installation. My experiences included bending conduit, pulling wire, grounding panels, wiring a junction box, and learning about the role of micro inverters in residential solar systems. It was really fun working alongside my coworkers to help a local family reduce their energy dependency on the power grid. I was also struck by the character of our GRID Solar Installation Supervisor, Dave. He was extremely patient and encouraging through both days of the build. He was extremely knowledgeable and passionate about the work we were doing.
Check out the first mission here:

Results
We brought solar to a family this weekend! With Grid's help, we installed a 2.8 kilowatt solar system, which is projected to have the following environmental and economic impacts for the family and the community:
– $24,000 value of energy generated this system over its lifetime (savings to family)
– 73 tons of Green House Gas emissions prevented (the carbon offset equivalent of planting over 1,500 trees!)
ANYONE can do it.
In addition to being excited for our next build opportunity, I'm also excited to continue partnering with GRID through the team leader training program. Their goal with this program is to help others gain the skills and experience required in the solar industry. As a Mazzetti employee, my goal is to use this training for all three of the areas I mentioned earlier. The training requires you to demonstrate mastery of key skills involved in solar installations to the point that you can teach them to someone with no experience.
The great thing is that anyone can go through this training, not just engineers,. Speaking of this, I want to give a shout out to Alice Debois-Froge my colleague in our SF office. Alice responded to my call for volunteers with conviction to take action toward positive change in our community. She attended the safety and build day orientation, and afterward confessed that she was a little intimidated by others' engineering knowledge of solar systems. I assured her that engineering knowledge was not a prerequisite to volunteer and that she should attend anyway. She stepped up and was a huge asset to our team on Saturday. Props to Alice!
Side-note: After the weekend, I described the work we did on the installation to a friend, who is an electrical engineer. He was not only impressed, but almost envious of the opportunities afforded to us in our new relationship with GRID. Maybe he should come work at Mazzetti!
Check out more photos of our adventure here: http://ow.ly/D3RmU
Learn more about GRID opportunities in your neighborhood here: http://www.gridalternatives.org/